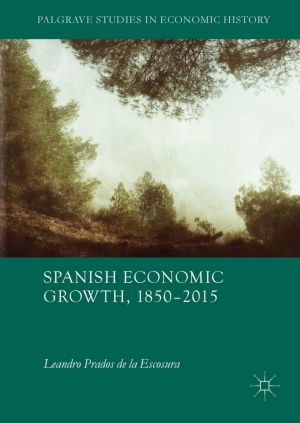 Book Description
This text offers a comprehensive and nuanced view of the economic development of Spain since 1850. It provides a new set of historical GDP estimates for Spain from the demand and supply sides, and presents a reconstruction of production and expenditure series for the century prior to the introduction of modern national accounts. The author splices available national accounts sets over the period 1958–2015 through interpolation, as an alternative to conventional retropolation. The resulting national accounts series are linked to the historical estimates providing yearly series for GDP and its components since 1850. On the basis of new population estimates, the author derives GDP per head, decomposed into labour productivity and the amount of work per person, and placed into international perspective.
With theoretical reasoning and historiographical implications, Prados de la Escosura provides a useful methodological reference work for anyone interested in national accounting.
'This book stands among the classics for the Kuznetian paradigm in empirical economics. This is the definitive study of Spain's transition to a modern economy.'
—Patrick Karl O'Brien, Emeritus Fellow at St. Antony's College, the University of Oxford, UK, and Professor Emeritus of Global Economic History at the London School of Economics and Political Science, UK
'The definitive account of Spanish economic growth since 1850, based firmly on a magisterial reconstruction of that country's national accounts and an unrivalled knowledge of both Spanish and global economic history of the period.'
—Stephen Broadberry, Professor of Economic History at Nuffield College, the University of Oxford, UK
This open book is licensed under a Creative Commons License (CC BY). You can download Spanish Economic Growth, 1850–2015 ebook for free in PDF format (5.3 MB).
Book Details
Subject
Economics and Finance
Publisher
Palgrave Macmillan
Published
2017
Pages
400
Edition
1
Language
English
ISBN13
9783319580418
ISBN10
3319580418
ISBN13 Digital
9783319580425
ISBN10 Digital
3319580426
PDF Size
5.3 MB
License

Related Books

Formalizing the Shadow Economy in Serbia
by Gorana Krstić, Friedrich Schneider
The main objective of this book is to develop a strategy and policy measures to enhance the formalization of the shadow economy in order to improve the competitiveness of the economy and contribute to economic growth; it explores these issues with special reference to Serbia. The size and development of the shadow economy in Serbia and other Centra...

Economic Evaluation of Sustainable Development
by Vinod Thomas, Namrata Chindarkar
This book presents methods to evaluate sustainable development using economic tools. The focus on sustainable development takes the reader beyond economic growth to encompass inclusion, environmental stewardship and good governance. Sustainable Development Goals (SDGs) provide a framework for outcomes. In illustrating the SDGs, the book employs thr...

Infrastructure and Economic Growth in Asia
by John Cockburn, Yazid Dissou, Jean-Yves Duclos, Luca Tiberti
Public spending on infrastructure plays an important role in promoting economic growth and poverty alleviation. Empirical studies unequivocally show that under-investment in infrastructure limits economic growth. At the same time, numerous other studies have shown that investment in infrastructure can be an effective tool in fighting poverty reduct...

Re-Inventing Africa's Development
by Jong-Dae Park
This book analyses the development problems of sub-Sahara Africa (SSA) from the eyes of a Korean diplomat with knowledge of the economic growth Korea has experienced in recent decades. The author argues that Africa's development challenges are not due to a lack of resources but a lack of management, presenting an alternative to the traditional view...

Wellbeing Economics
by Paul Dalziel, Caroline Saunders, Joe Saunders
Economists have long sought to maximise economic growth, believing this to be their best contribution to improving human welfare. That approach is not sustainable in the face of ongoing issues such as global climate change, environmental damage, rising inequality and enduring poverty. Alternatives must be found. This book addresses that challenge....

Internal Migration, Urbanization and Poverty in Asia: Dynamics and Interrelationships
by Kankesu Jayanthakumaran, Reetu Verma, Guanghua Wan, Edgar Wilson
Asia's recent demographic transitions and rural - urban structural transformations are extraordinary and involve complexities that require in-depth study.The chapters within this volume examine those complexities using a range of traditional and nontraditional measures - such as multidimensional poverty, gaps, and polarization - to arrive at the co...