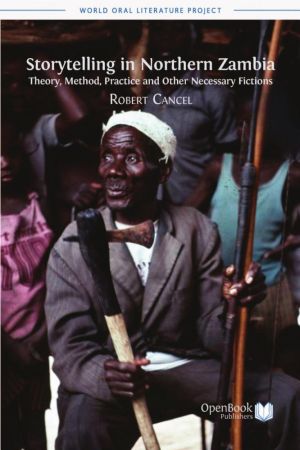 Book Description
Storytelling plays an important part in the vibrant cultural life of Zambia and in many other communities across Africa. This innovative book provides a collection and analysis of oral narrative traditions as practiced by five Bemba-speaking ethnic groups in Zambia. The integration of newly digitalised audio and video recordings into the text enables the reader to encounter the storytellers themselves and hear their narratives as they were recounted during Robert Cancel's research trips to Zambia.
Robert Cancel's thorough critical interpretation, combined with these newly digitalised audio and video materials, makes Storytelling in Northern Zambia a much needed addition to the slender corpus of African folklore studies that deal with storytelling performance. Cancel threads his way between the complex demands of African fieldwork studies, folklore theory, narrative modes, reflexive description and simple documentation and succeeds in bringing to the reader a set of performers and their performances that are vivid, varied and instructive. He illustrates this living narrative tradition with a wide range of examples, and highlights the social status of narrators and the complex local identities that are at play.
Cancel's innovative study tells us not only about storytelling but sheds light on the study of oral literatures throughout Africa and beyond. Its innovative format, meanwhile, explores new directions in the integration of primary source material into scholarly texts.
This open book is licensed under a Creative Commons License (CC BY). You can download Storytelling in Northern Zambia ebook for free in PDF format (6.0 MB).
Table of Contents
Part I
Writing Oral Narrative: The Role and Description of Self in Recording Living Traditions
Part II
The Tabwa Context: Mature Shifting of Frames and Adolescent Assertion
Part III
Chiefs, Tricksters and Christians: Bemba Tales and Lessons
Part IV
Bisa Storytelling: The Politics of Hunting, Beer-Drinks, and Elvis
Part V
Telling Tales While Keeping Secrets: Two Lunda Storytelling Sessions
Part VI
Stories on Demand: A Performance Session Among the Bwile
Part VII
Conclusion: Lessons from Frozen Moments
Book Details
Publisher
Open Book Publishers
Published
2013
Pages
296
Edition
1
Language
English
ISBN13
9781909254596
ISBN10
1909254592
ISBN13 Digital
9781909254619
ISBN10 Digital
1909254614
PDF Size
6.0 MB
License

Related Books

South-North Migration of EU Citizens in Times of Crisis
by Jean-Michel Lafleur, Mikolaj Stanek
This book looks at the migration of Southern European EU citizens (from Portugal, Spain, Italy, Greece) who move to Northern European Member States (Belgium, France, Germany, United Kingdom) in response to the global economic crisis.Its objective is twofold. First, it identifies the scale and nature of this new Southern European emigration and exam...

Geographies of Asylum in Europe and the Role of European Localities
by Birgit Glorius, Jeroen Doomernik
This book describes how the numerous arrivals of asylum seekers since 2015 shaped reception and integration processes in Europe. It addresses the structuration of asylum and reception systems, and spaces and places of reception on European, national, regional and local level. It also analyses perceptions and discourses on asylum and refugees, their...

Regional Geological Survey of Hanggai, Xianxia and Chuancun, Zhejiang Province in China
by Jianfang Zhang, Chaohui Zhu, Longwu Wang, Xiaoliang Cai, Ruijun Gong, Xiaoyou Chen, Jianguo Wang, Mingguang Gu, Zongyao Zhou, Yuandong Liu
This book introduces readers to the regional geology of Hanggai, Xianxia and Chuancun, the area between China's northern Zhejiang Province and southern Anhui Province and explores the strata, magmatic rocks and tectonic structures in 1:50,000 scale geological maps. Based on studies of multiple stratigraphic divisions, the standard stratigraphic sec...

Wellbeing and Devolution
by Jennifer Wallace
"In this book, Wallace elegantly shows how committed government intervention can improve wellbeing with rigour and impact. It's an essential read for anyone concerned with the future of the UK."Julia Unwin, CBE"As someone who commissioned one of the first attempts to learn from the devolved nations I am delighted to see this publicat...

Talent Development in European Higher Education
by Dr. Marca V.C. Wolfensberger
This book examines the much-debated question of how to unleash the potential of young people with promising intellectual abilities and motivation. It looks at the increasingly important topic of excellence in education, and the shift in focus towards the provision of programs to support talented students in higher education. It provides a systemati...