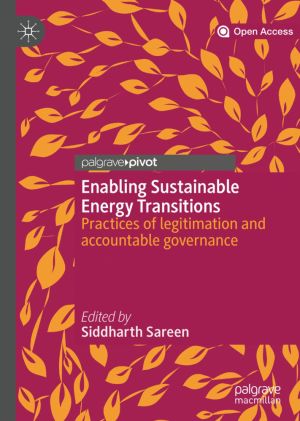 Book Description
"This compact book argues that ideas about accountability and legitimation – drawn from work on environmental governance – can open up new analytical perspectives on what is holding back effective energy system transformation. With bite-size chapters and illustrative cases that draw on the work of five expert witnesses, this is a novel intervention into debates over the politics of energy transition."-Professor Gavin Bridge, Durham University, UK
"The book theorizes and advances the research frontier on legitimation practices and accountability with a carefully crafted analysis bridging scholarly fields of environmental governance, political economy, energy research and democratic theory. It is a must-read for all students and scholars interested in shaping more legitimate, democratic and accountable energy transition from the local to global context."-Professor Karin Bäckstrand, Stockholm University, Sweden
This open access book reframes sustainable energy transitions as being a matter of resolving accountability crises. It demonstrates how the empirical study of several practices of legitimation can analytically deconstruct energy transitions, and presents a typology of these practices to help determine whether energy transitions contribute to sustainability.
The real-world challenge of climate change requires sustainable energy transitions. This presents a crisis of accountability legitimated through situated practices in a wide range of cases including: solar energy transitions in Portugal, urban energy transitions in Germany, forestland conflicts in Indonesia, urban carbon emission targets in Norway, transport electrification in the Nordic region, and biodiversity conservation and energy extraction in the USA. By synthesising these cases, chapters identify various dimensions wherein practices of legitimation construct specific accountability relations. This book deftly illustrates the value of an analytical approach focused on accountable governance to enable sustainable energy transitions. It will be of great use to both academics and practitioners working in the field of energy transitions.
Siddharth Sareen is a postdoctoral researcher at the Centre for Climate and Energy Transformation at the University of Bergen, Norway.
This open book is licensed under a Creative Commons License (CC BY). You can download Enabling Sustainable Energy Transitions ebook for free in PDF format (4.6 MB).
Book Details
Publisher
Palgrave Pivot
Published
2020
Pages
182
Edition
1
Language
English
ISBN13
9783030268909
ISBN10
303026890X
ISBN13 Digital
9783030268916
ISBN10 Digital
3030268918
PDF Size
4.6 MB
License

Related Books

Energy Demand Challenges in Europe
by Frances Fahy, Gary Goggins, Charlotte Jensen
This book examines the role of citizens in sustainable energy transitions across Europe. It explores energy problem framing, policy approaches and practical responses to the challenge of securing clean, affordable and sustainable energy for all citizens, focusing on households as the main unit of analysis. The book revolves around ten contributions...

Designing Sustainable Energy for All
by Carlo Vezzoli, Fabrizio Ceschin, Lilac Osanjo, Mugendi M'Rithaa, Richie Moalosi, Venny Nakazibwe, Jan Carel Diehl
This book addresses the issue of diffusing sustainable energy access inlow- and middle-income contexts. Access to energy is one of the greatest challenges for many people living in low-income and developing contexts, as around 1.4 billion people lack access to electricity.Distributed Renewable Energy systems (DRE) are considered a promising approa...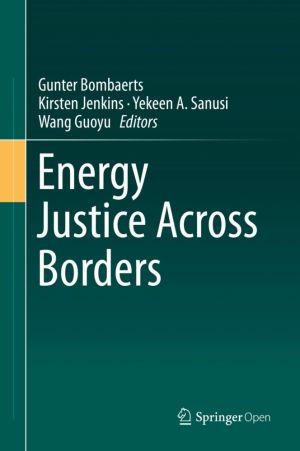 Energy Justice Across Borders
by Gunter Bombaerts, Kirsten Jenkins, Yekeen A. Sanusi, Wang Guoyu
We must find new and innovative ways of conceptualizing transboundary energy issues, of embedding concerns of ethics or justice into energy policy, and of operationalizing response to them. This book stems from the emergent gap; the need for comparative approaches to energy justice, and for those that consider ethical traditions that go beyond the ...

Fundamentals of Solid State Engineering
by Manijeh Razeghi
The 4th edition of this class-tested, multi-disciplinary introduction to solid state engineering adds dozens of revised and updated sections and problems, as well as three new chapters on solar energy harvesting, thermal and photothermal energy harvesting, and photo-thermovoltaics. Combining concepts from physics, chemistry, electrical engineering,...

eIoT
by Steffi O. Muhanji, Alison E. Flint, Amro M. Farid
This book explores the collision between the sustainable energy transition and the Internet of Things (IoT). In that regard, this book's arrival is timely. Not only is the Internet of Things for energy applications, herein called the energy Internet of Things (eIoT), rapidly developing but also the transition towards sustainable energy to abate glo...