Book Description
This free book explores how digital tools and social media technologies can contribute to better participation and involvement of EU citizens in European politics. By analyzing selected representative e-participation projects at the local, national and European governmental levels, it identifies the preconditions, best practices and shortcomings of e-participation practices in connection with EU decision-making procedures and institutions. The book features case studies on parliamentary monitoring, e-voting practices, and e-publics, and offers recommendations for improving the integration of e-democracy in European politics and governance. Accordingly, it will appeal to scholars as well as practitioners interested in identifying suitable e-participation tools for European institutions and thus helps to reduce the EU's current democratic deficit.
This book is a continuation of the book "Electronic Democracy in Europe" published by Springer.
This open book is licensed under a Creative Commons License (CC BY). You can download European E-Democracy in Practice ebook for free in PDF format (4.6 MB).
Book Details
Subject
Politics and Government
Publisher
Springer
Published
2020
Pages
359
Edition
1
Language
English
ISBN13
9783030271831
ISBN10
3030271838
ISBN13 Digital
9783030271848
ISBN10 Digital
3030271846
PDF Size
4.6 MB
License

Related Books

Talent Development in European Higher Education
by Dr. Marca V.C. Wolfensberger
This book examines the much-debated question of how to unleash the potential of young people with promising intellectual abilities and motivation. It looks at the increasingly important topic of excellence in education, and the shift in focus towards the provision of programs to support talented students in higher education. It provides a systemati...

Participatory Research and Planning in Practice
by Janez Nared, David Bole
This free book provides in-depth insights into participatory research and planning by presenting practical examples of its use. In particular, it describes theoretical and methodological aspects of participatory research and planning, as well as the implementation of participatory processes in fields such as transport planning, cultural heritage ma...

Research Assessment in the Humanities
by Michael Ochsner, Sven E. Hug, Hans-Dieter Daniel
This book is open access, which means that you have free and unlimited access.This book analyses and discusses the recent developments for assessing research quality in the humanities and related fields in the social sciences. Research assessments in the humanities are highly controversial and the evaluation of humanities research is delicate. Whi...

Solidarity in Europe
by Christian Lahusen, Maria T. Grasso
This open access volume provides evidence-based knowledge on European solidarity and citizen responses in times of crisis. Does the crisis of European integration translate into a crisis of European solidarity, and if yes, what are the manifestations at the level of individual citizens? How strongly is solidarity rooted at the individual level, bot...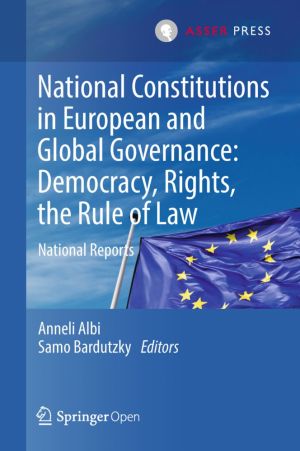 National Constitutions in European and Global Governance: Democracy, Rights, the Rule of Law
by Anneli Albi, Samo Bardutzky
This two-volume book, published open access, brings together leading scholars of constitutional law from twenty-nine European countries to revisit the role of national constitutions at a time when decision-making has increasingly shifted to the European and transnational level. It offers important insights into three areas. First, it explores how c...

Mergers and Alliances in Higher Education
by Adrian Curaj, Luke Georghiou, Jennifer Cassingena Harper, Eva Egron-Polak
Higher education in Europe and beyond faces a series of major challenges. The economic crisis has accelerated expectations of an increased role in addressing economic and societal challenges while, at the same time, putting pressure on available finances. Broader trends such as shifting student demographics and expectations, globalisation and mobil...