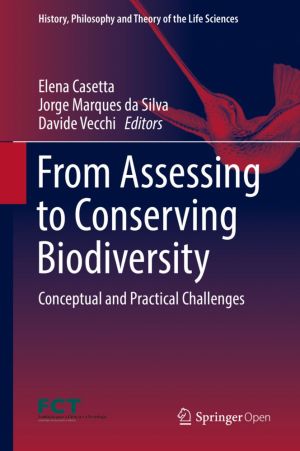 Book Description
This book features essays written by philosophers, biologists, ecologists and conservation scientists facing the current biodiversity crisis. Despite increasing communication, accelerating policy and management responses, and notwithstanding improving ecosystem assessment and endangered species knowledge, conserving biodiversity continues to be more a concern than an accomplished task. Why is it so? The overexploitation of natural resources by our species is a frequently recognised factor, while the short-term economic interests of governments and stakeholders typically clash with the burdens that implementing conservation actions imply. But this is not the whole story. This book develops a different perspective on the problem by exploring the conceptual challenges and practical defiance posed by conserving biodiversity, namely: on the one hand, the difficulties in defining what biodiversity is and characterizing that "thing" to which the word 'biodiversity' refers to; on the other hand, the reasons why assessing biodiversity and putting in place effective conservation actions is arduous.
This open book is licensed under a Creative Commons License (CC BY). You can download From Assessing to Conserving Biodiversity ebook for free in PDF format (8.0 MB).
Book Details
Subject
Philosophy
Publisher
Springer
Published
2019
Pages
455
Edition
1
Language
English
ISBN13
9783030109905
ISBN10
3030109909
ISBN13 Digital
9783030109912
ISBN10 Digital
3030109917
PDF Size
8.0 MB
License

Related Books

The Privacy Engineer's Manifesto
by Michelle Finneran Dennedy, Jonathan Fox, Thomas R. Finneran
The Privacy Engineer's Manifesto: Getting from Policy to Code to QA to Value is the first book of its kind, offering industry-proven solutions that go beyond mere theory and adding lucid perspectives on the challenges and opportunities raised with the emerging "personal" information economy. The authors, a uniquely skilled team of long...

Disrupting Finance
by Theo Lynn, John G. Mooney, Pierangelo Rosati, Mark Cummins
This open access Pivot demonstrates how a variety of technologies act as innovation catalysts within the banking and financial services sector. Traditional banks and financial services are under increasing competition from global IT companies such as Google, Apple, Amazon and PayPal whilst facing pressure from investors to reduce costs, increase ag...

Decision Making under Deep Uncertainty
by Vincent A. W. J. Marchau, Warren E. Walker, Pieter J. T. M. Bloemen, Steven W. Popper
This book focuses on both the theory and practice associated with the tools and approaches for decisionmaking in the face of deep uncertainty. It explores approaches and tools supporting the design of strategic plans under deep uncertainty, and their testing in the real world, including barriers and enablers for their use in practice. The book broa...

Children and Peace
by Nikola Balvin, Daniel J. Christie
This free book brings together discourse on children and peace from the 15th International Symposium on the Contributions of Psychology to Peace, covering issues pertinent to children and peace and approaches to making their world safer, fairer and more sustainable. The book is divided into nine sections that examine traditional themes (social con...

Railway Ecology
by Luís Borda-de-Água, Rafael Barrientos, Pedro Beja, Henrique Miguel Pereira
This book provides a unique overview of the impacts of railways on biodiversity, integrating the existing knowledge on the ecological effects of railways on wildlife, identifying major knowledge gaps and research directions and presenting the emerging field of railway ecology. The book is divided into two major parts: Part one offers a general revi...