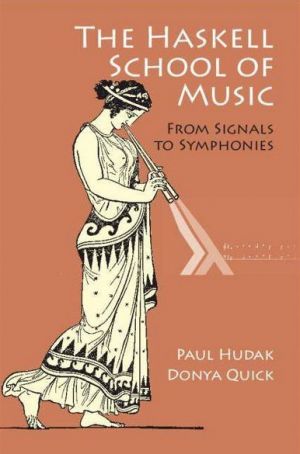 Book Description
This free book explores the fundamentals of computer music and functional programming through the Haskell programming language. Functional programming is typically considered difficult to learn. This introduction in the context of creating music will allow students and professionals with a musical inclination to leverage their experience to help understand concepts that might be intimidating in more traditional computer science settings.
Conversely, the book opens the door for programmers to interact with music by using a medium that is familiar to them. Readers will learn how to use the Euterpea library for Haskell to represent and create their own music with code, without the need for other music software.
The book explores common paradigms used in algorithmic music composition, such as stochastic generation, musical grammars, self-similarity, and real-time interactive systems. Other topics covered include the basics of signal-based systems in Haskell, sound synthesis, and virtual instrument design.
This is a textbook on functional programming in Haskell, with a strong focus on computer music concepts and applications. The book describes Euterpea, a computer music library developed in Haskell, that allows programming computer music applications both at the note level and the signal level.
The book also teaches functional programming in Haskell from scratch. It is suitable for use in the classroom to teach functional programming concepts, Haskell language details, computer music and audio processing concepts and applications - or all of the above.
This open book is licensed under a Creative Commons License (CC BY). You can download The Haskell School of Music ebook for free in PDF format (4.1 MB).
Book Details
Subject
Computer Science
Publisher
Cambridge University Press
Published
2014
Pages
441
Edition
1
Language
English
ISBN13 Digital
9781108416757
ISBN10 Digital
1108416756
PDF Size
4.1 MB
License

Related Books

The Academic Book of the Future
by Rebecca E. Lyons, Samantha J. Rayner
Part of the AHRC/British Library Academic Book of the Future Project, this book interrogates current and emerging contexts of academic books from the perspectives of thirteen expert voices from the connected communities of publishing, academia, libraries, and bookselling....

The Everyday Life of an Algorithm
by Daniel Neyland
This book begins with an algorithm - a set of IF...THEN rules used in the development of a new, ethical, video surveillance architecture for transport hubs. Readers are invited to follow the algorithm over three years, charting its everyday life. Questions of ethics, transparency, accountability and market value must be grasped by the algorithm in ...

Building the Foundation: Whole Numbers in the Primary Grades
by Maria Bartolini Bussi, Xu Hua Sun
This twenty-third ICMI Study addresses for the first time mathematics teaching and learning in the primary school (and pre-school) setting, while also taking international perspectives, socio-cultural diversity and institutional constraints into account. One of the main challenges of designing the first ICMI primary school study of this kind is the...

Tools and Algorithms for the Construction and Analysis of Systems
by Tomáš Vojnar, Lijun Zhang
The LNCS 11427 and 11428 proceedings set constitutes the proceedings of the 25th International Conference on Tools and Algorithms for the Construction and Analysis of Systems, TACAS 2019, which took place in Prague, Czech Republic, in April 2019, held as part of the European Joint Conferences on Theory and Practice of Software, ETAPS 2019. The tot...

Foundations of Software Science and Computation Structures
by Christel Baier, Ugo Dal Lago
This book constitutes the proceedings of the 21st International Conference on Foundations of Software Science and Computational Structures, FOSSACS 2018, which took place in Thessaloniki, Greece, in April 2018, held as part of the European Joint Conference on Theory and Practice of Software, ETAPS 2018.The 31 papers presented in this volume were ca...

Science as Social Existence
by Jeff Kochan
In this bold and original study, Jeff Kochan constructively combines the sociology of scientific knowledge (SSK) with Martin Heidegger's early existential conception of science. Kochan shows convincingly that these apparently quite different approaches to science are, in fact, largely compatible, even mutually reinforcing. By combining Heidegger...