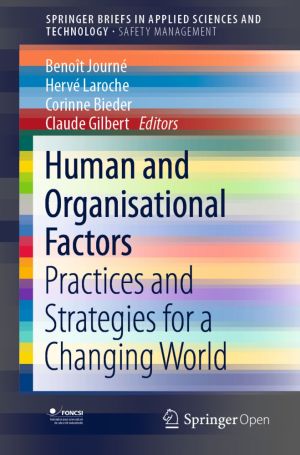 Book Description
This open access book addresses several questions regarding the implementation of human and organisational factors (HOF) so that recent improvements in industrial safety can be built upon. It addresses sources of frustration in senior management with high expectations of operational recommendations and disquiet on the part of HOF specialists struggling to have an impact on high-level decision making. The brief explores these issues with an emphasis on examples and lessons learned based on the experience of its authors, who come from different academic disciplines and various industrial sectors such as oil and gas, energy and transportation. It then offers some ways forward for a better consideration of HOF in hazardous companies with a view of promoting safety and facing challenges in a rapidly changing world.
This open book is licensed under a Creative Commons License (CC BY). You can download Human and Organisational Factors ebook for free in PDF format (2.6 MB).
Book Details
Subject
Engineering and Technology
Publisher
Springer
Published
2020
Pages
139
Edition
1
Language
English
ISBN13
9783030256388
ISBN10
3030256383
ISBN13 Digital
9783030256395
ISBN10 Digital
3030256391
PDF Size
2.6 MB
License

Related Books

Humanities World Report 2015
by Poul Holm, Arne Jarrick, Dominic Scott
The first of its kind, this Open Access 'Report' is a first step in assessing the state of the humanities worldwide. Based on an extensive literature review and enlightening interviews the book discusses the value of the humanities, the nature of humanities research and the relation between humanities and politics, amongst other issues....

Human and Machine Consciousness
by David Gamez
Consciousness is widely perceived as one of the most fundamental, interesting and difficult problems of our time. However, we still know next to nothing about the relationship between consciousness and the brain and we can only speculate about the consciousness of animals and machines. Human and Machine Consciousness presents a new foundation fo...

Computation and the Humanities
by Julianne Nyhan, Andrew Flinn
This book addresses the application of computing to cultural heritage and the discipline of Digital Humanities that formed around it. Digital Humanities research is transforming how the Human record can be transmitted, shaped, understood, questioned and imagined and it has been ongoing for more than 70 years. However, we have no comprehensive histo...

Understanding Society and Natural Resources
by Michael J. Manfredo, Jerry J. Vaske, Andreas Rechkemmer, Esther A. Duke
In this edited open access book leading scholars from different disciplinary backgrounds wrestle with social science integration opportunities and challenges. This book explores the growing concern of how best to achieve effective integration of the social science disciplines as a means for furthering natural resource social science and environment...

Digital Technology and the Practices of Humanities Research
by Jennifer Edmond
How does technology impact research practices in the humanities? How does digitisation shape scholarly identity? How do we negotiate trust in the digital realm? What is scholarship, what forms can it take, and how does it acquire authority? This diverse set of essays demonstrate the importance of asking such questions, bringing together establis...