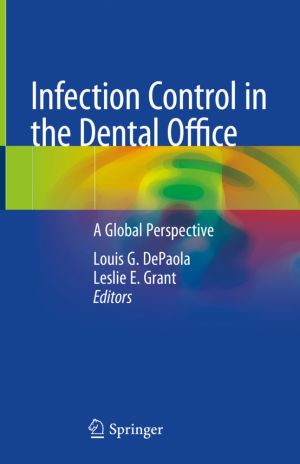 Book Description
This book reviews the principles of infection control and the guidelines and standards of care in multiple countries, discussing them within the context of the practice of dentistry. The aim is to enable dental practitioners to ensure that the appropriate measures are adopted for each patient contact, thereby minimizing the risk of transmission of infection – a goal that is becoming ever more important given the threats posed by new or re-emerging infectious diseases and drug-resistant infections. Readers will find information and guidance on all aspects of infection control within the dental office: hand and respiratory hygiene, use of personal protective equipment, safe handling of sharps and safe injection practices, management of occupational exposures, maintenance of dental unit water quality, surface disinfection, and the cleaning and sterilization of dental instruments. Infection Control in the Dental Office will be an invaluable asset for all dental practitioners, including dentists, dental specialists, dental hygienists, and dental assistants.
This open book is licensed under a Creative Commons License (CC BY). You can download Infection Control in the Dental Office ebook for free in PDF format (9.4 MB).
Book Details
Subject
Medical
Publisher
Springer
Published
2020
Pages
212
Edition
1
Language
English
ISBN13
9783030300845
ISBN10
3030300846
ISBN13 Digital
9783030300852
ISBN10 Digital
3030300854
PDF Size
9.4 MB
License

Related Books

Building the Infrastructure for Cloud Security
by Raghu Yeluri, Enrique Castro-Leon
For cloud users and providers alike, security is an everyday concern, yet there are very few books covering cloud security as a main subject. This book will help address this information gap from an Information Technology solution and usage-centric view of cloud infrastructure security. The book highlights the fundamental technology components nece...

Building the Foundation: Whole Numbers in the Primary Grades
by Maria Bartolini Bussi, Xu Hua Sun
This twenty-third ICMI Study addresses for the first time mathematics teaching and learning in the primary school (and pre-school) setting, while also taking international perspectives, socio-cultural diversity and institutional constraints into account. One of the main challenges of designing the first ICMI primary school study of this kind is the...

Solidarity in Europe
by Christian Lahusen, Maria T. Grasso
This open access volume provides evidence-based knowledge on European solidarity and citizen responses in times of crisis. Does the crisis of European integration translate into a crisis of European solidarity, and if yes, what are the manifestations at the level of individual citizens? How strongly is solidarity rooted at the individual level, bot...

National Reflections on the Netherlands Didactics of Mathematics
by Marja Van den Heuvel-Panhuizen
This open access book, inspired by the ICME 13 Thematic Afternoon on "European Didactic Traditions", consists of 17 chapters, in which educators from the Netherlands reflect on the teaching and learning of mathematics in their country and the role of the Dutch domain-specific instruction theory of Realistic Mathematics Education.Written b...

Aquaculture Perspective of Multi-Use Sites in the Open Ocean
by Bela H. Buck, Richard Langan
This volume addresses the potential for combining large-scale marine aquaculture of macroalgae, molluscs, crustaceans, and finfish, with offshore structures, primarily those associated with energy production, such as wind turbines and oil-drilling platforms. The volume offers a comprehensive overview and includes chapters on policy, science, engine...

Migration in the Southern Balkans
by Hans Vermeulen, Martin Baldwin-Edwards, Riki van Boeschoten
This book collects ten essays that look at intra-regional migration in the Southern Balkans from the late Ottoman period to the present. It examines forced as well as voluntary migrations and places these movements within their historical context, including ethnic cleansing, population exchanges, and demographic engineering in the service of nation...