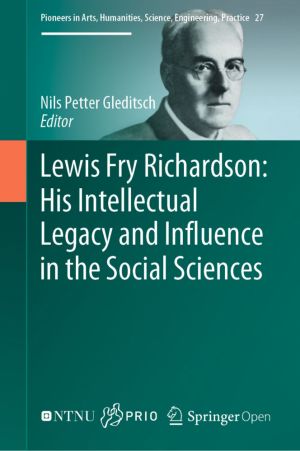 Book Description
This is an open access book. Lewis F Richardson (1981-1953), a physicist by training, was a pioneer in meteorology and peace research and remains a towering presence in both fields. This edited volume reviews his work and assesses its influence in the social sciences, notably his work on arms races and their consequences, mathematical models, the size distribution of wars, and geographical features of conflict. It contains brief bibliographies of his main publications and of articles and books written about Richardson and his work and discusses his continuing influence in peace research and international relations as well as his attitude to the ethical responsibilities of a scientist. It will be of interest to a wide range of scholars. This book includes 11 chapters written by Nils Petter Gleditsch, Dina A Zinnes, Ron Smith, Paul F Diehl, Kelly Kadera, Mark Crescenzi, Michael D Ward, Kristian Skrede Gleditsch, Nils B Weidmann, Jürgen Scheffran, Niall MacKay, Aaron Clauset, Michael Spagat and Stijn van Weezel.
Lewis F Richardson occupied an important position in two academic fields as different as meteorology and peace research, with academic prizes awarded in both disciplines.
In peace research, he pioneered the use of mathematical models and the meticulous compilation of databases for empirical research.
As a quaker and pacifist, he refused to work in preparations for war, paid a heavy prize in terms of his career, and (at least in the social sciences) was fully recognized as a pioneering scholar only posthumously with the publication of two major books.
Lewis Fry Richardson is one of the 20th century's greatest but least appreciated thinkers—a creative physicist, psychologist, meteorologist, applied mathematician, historian, pacifist, statistician, and witty stylist. If you've heard of weather prediction, chaos, fractals, cliometrics, peace science, big data, thick tails, or black swans, then you have benefited from Richardson's prescience in bringing unruly phenomena into the ambit of scientific understanding. Richardson's ideas continue to be relevant today, and this collection is a superb retrospective on this brilliant and lovable man.
Steven Pinker, Johnstone Professor, Harvard University, and the author of The Better Angels of Our Nature and Enlightenment Now
This open book is licensed under a Creative Commons License (CC BY). You can download Lewis Fry Richardson: His Intellectual Legacy and Influence in the Social Sciences ebook for free in PDF format (3.5 MB).
Book Details
Publisher
Springer
Published
2020
Pages
152
Edition
1
Language
English
ISBN13
9783030315887
ISBN10
3030315886
ISBN13 Digital
9783030315894
ISBN10 Digital
3030315894
PDF Size
3.5 MB
License

Related Books

National Reflections on the Netherlands Didactics of Mathematics
by Marja Van den Heuvel-Panhuizen
This open access book, inspired by the ICME 13 Thematic Afternoon on "European Didactic Traditions", consists of 17 chapters, in which educators from the Netherlands reflect on the teaching and learning of mathematics in their country and the role of the Dutch domain-specific instruction theory of Realistic Mathematics Education.Written b...

Methodological Investigations in Agent-Based Modelling
by Eric Silverman
This book examines the methodological complications of using complexity science concepts within the social science domain. The opening chapters take the reader on a tour through the development of simulation methodologies in the fields of artificial life and population biology, then demonstrates the growing popularity and relevance of these method...

Complications and Quandaries in the ICT Sector
by Ashish Bharadwaj, Vishwas H. Devaiah, Indranath Gupta
With technology standards becoming increasingly common, particularly in the information and communications technology (ICT) sector, the complexities and contradictions at the interface of intellectual property law and competition law have emerged strongly. This book talks about how the regulatory agencies and courts in the United States, European U...

Cohabitation and Marriage in the Americas: Geo-historical Legacies and New Trends
by Albert Esteve , Ron J. Lesthaeghe
This book presents an innovative study of the rise of unmarried cohabitation in the Americas, from Canada to Argentina. Using an extensive sample of individual census data for nearly all countries on the continent, it offers a cross-national, comparative view of this recent demographic trend and its impact on the family. The book offers a tour of t...

Education and Development in Colonial and Postcolonial Africa
by Damiano Matasci, Miguel Bandeira Jerónimo, Hugo Gonçalves Dores
This open access edited volume offers an analysis of the entangled histories of education and development in twentieth-century Africa. It deals with the plurality of actors that competed and collaborated to formulate educational and developmental paradigms and projects: debating their utility and purpose, pondering their necessity and risk, and eva...

Shipping and Globalization in the Post-War Era
by Niels P. Petersson, Stig Tenold, Nicholas J. White
This free book belongs to the Maritime Business and Economic History strand of the Palgrave Studies in Maritime Economics book series.This volume highlights the contribution of the shipping industry to the transformations in business and society of the postwar era. Shipping was both an example and an engine of globalization and structural change. I...