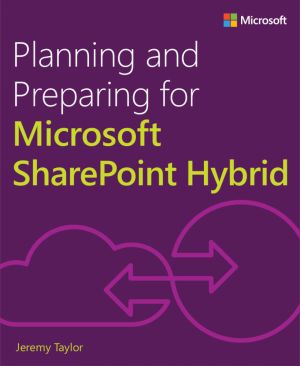 Book Description
Microsoft SharePoint hybrid deployments are rapidly becoming popular with Microsoft's investments on increased SharePoint productivity, not only in your own environment (on-premises) but also collaborating in new ways through the largest and most advanced cloud service platform in the world - Microsoft Office 365 and Microsoft Azure. SharePoint hybrid is about connecting SharePoint on-premises to Office 365 and Azure to extend capabilities, enhance collaboration, and drive innovation forward.
This book is part of a series to provide readers from all over the world with a guide on how to connect SharePoint on-premises to Microsoft's cloud services. You will gain insight into planning, architecture, configuration, and management of SharePoint hybrid. This book covers foundational topics with which you will learn more about Office 365 and Microsoft Azure, architecture planning, platform hygiene and preparation, directory synchronization, and how to configure a seamless single sign-on experience for users.
Microsoft has undergone various compliance and regulatory certifications to meet a broad set of international, government, and industry-specific standards. This will continue to accelerate the adoption of SharePoint hybrid in the coming years as markets become more familiar with the business benefits and service offerings.
This open book is licensed under a Microsoft Open License. You can download Planning and Preparing for Microsoft SharePoint Hybrid ebook for free in PDF format (5.7 MB).
Table of Contents
Chapter 1
Microsoft cloud overview
Chapter 2
Azure and Office 365 for SharePoint hybrid
Chapter 3
Architecture, authentication, and authorization
Chapter 4
Platform hygiene preparation
Chapter 5
Synchronizing users to the cloud
Chapter 6
SharePoint hybrid single sign-on
Book Details
Subject
Computer Science
Publisher
Microsoft Press
Published
2016
Pages
113
Edition
1
Language
English
ISBN13 Digital
9781509302420
ISBN10 Digital
1509302425
PDF Size
5.7 MB
License
Microsoft Open
Related Books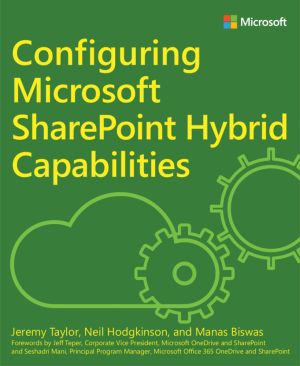 Configuring Microsoft SharePoint Hybrid Capabilities
by Jeremy Taylor, Neil Hodgkinson, Manas Biswas
Microsoft SharePoint hybrid consists of a growing list of advanced hybrid solutions that empowers organizations to consume benefits of the cloud and maintain their on-premises investments. This book is the second in a series of SharePoint hybrid books in which we show you how to configure, troubleshoot, and manage a SharePoint hybrid environment. ...

Android Notes for Professionals
by GoalKicker
The Android Notes for Professionals book is compiled from Stack Overflow Documentation, the content is written by the beautiful people at Stack Overflow....

Microsoft Platform and Tools for Mobile App Development
by Cesar de la Torre, Simon Calvert
Understanding and creating a mobile app development strategy is an important process for today's development decision-makers opening up new business opportunities or empowering employees to be more productive with new capabilities. Microsoft defines an end-to-end platform for the agile creation of mobile apps that can target any platform (iOS, Andr...

Tools and Algorithms for the Construction and Analysis of Systems
by Tomáš Vojnar, Lijun Zhang
The LNCS 11427 and 11428 proceedings set constitutes the proceedings of the 25th International Conference on Tools and Algorithms for the Construction and Analysis of Systems, TACAS 2019, which took place in Prague, Czech Republic, in April 2019, held as part of the European Joint Conferences on Theory and Practice of Software, ETAPS 2019. The tot...

Containerized Docker Application Lifecycle with Microsoft Platform and Tools
by Cesar de la Torre
This book provides end-to-end guidance on the Docker application development lifecycle with Microsoft tools and services while providing an introduction to Docker development concepts for readers who might be new to the Docker ecosystem. This way, anyone can understand the global picture and start planning development projects based on Docker and M...

Biodiversity and Health in the Face of Climate Change
by Melissa R. Marselle, Jutta Stadler, Horst Korn, Katherine N. Irvine, Aletta Bonn
This book identifies and discusses biodiversity's contribution to physical, mental and spiritual health and wellbeing. Furthermore, the book identifies the implications of this relationship for nature conservation, public health, landscape architecture and urban planning – and considers the opportunities of nature-based solutions for climate chan...