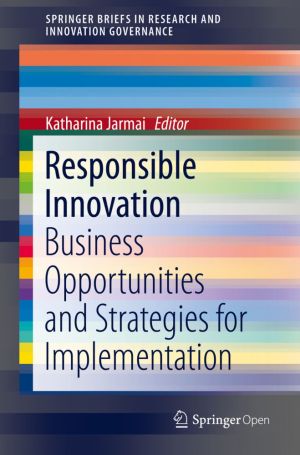 Book Description
This Open Access book, Responsible innovation provides benefits for society, for instance more sustainable products, more engagement with consumers and less anxiety about emerging technologies. As a governance tool it is mostly driven by research funders, including the European Commission, under the term "responsible research and innovation" (RRI). To achieve uptake in private industry is a challenge. This book provides successful case studies for the implementation of responsible innovation in businesses. The importance of social innovations is emphasized as a link between benefits for society and profits for businesses, especially SMEs. For corporate industry it is shown how responsible innovation can offer a competitive advantage to adopters. The book is based on the latest insights from theory and practice and combines conceptual work with first-hand experience. It is of interest to innovation managers, entrepreneurs and academics.For academics, the book will provide a combination of analysis and discussion, and present recent learnings from first-hand interaction with entrepreneurs. For innovation managers and entrepreneurs, it will provide inspiration and better ideas about what responsible innovation can look like in practice, why others have "done it" and what the potential benefits might be. The book will thus serve the purposes of spreading the word about the responsible innovation concept among different audiences whilst making it more accessible to innovation managers and entrepreneurs.
This open book is licensed under a Creative Commons License (CC BY). You can download Responsible Innovation ebook for free in PDF format (1.9 MB).
Book Details
Subject
Philosophy
Publisher
Springer
Published
2020
Pages
101
Edition
1
Language
English
ISBN13
9789402417197
ISBN10
9402417192
ISBN13 Digital
9789402417203
ISBN10 Digital
9402417206
PDF Size
1.9 MB
License

Related Books

New Frontiers in Social Innovation Research
by Alex Nicholls, Julie Simon, Madeleine Gabriel
Interest in social innovation continues to rise, from governments setting up social innovation 'labs' to large corporations developing social innovation strategies. Yet theory lags behind practice, and this hampers our ability to understand social innovation and make the most of its potential. This collection brings together work by leading social ...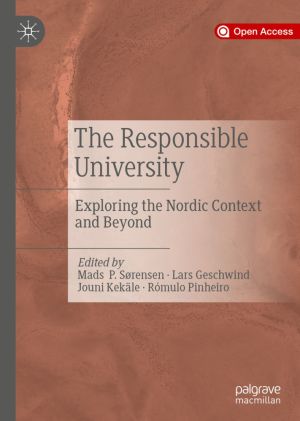 The Responsible University
by Mads P. Sørensen, Lars Geschwind, Jouni Kekäle, Rómulo Pinheiro
This book explores how the notion of the responsible university manifests itself at various levels within Nordic higher education. As the impetus of the knowledge society has catapulted the higher education sector to the forefront of policy agendas, universities and other types of higher education institutions face increasing scrutiny, assessment a...

Fulfilling the Promise of Technology Transfer
by Koichi Hishida
Universities and research institutes are increasingly expected to contribute to society by creating innovation from the returns of their research results and the establishment of new technologies. Toward that goal, Keio University in Japan held an international symposium titled "Fulfilling the Promise of Technology Transfer: Fostering Innovati...

Multi-dimensional Approaches Towards New Technology
by Ashish Bharadwaj, Vishwas H. Devaiah, Indranath Gupta
This open access edited book captures the complexities and conflicts arising at the interface of intellectual property rights (IPR) and competition law. To do so, it discusses four specific themes: (a) policies governing functioning of standard setting organizations (SSOs), transparency and incentivising future innovation; (b) issue of royalties fo...

Institutional Reform for Innovation and Entrepreneurship
by Niklas Elert, Magnus Henrekson, Mikael Stenkula
The authors of this book advise the economies of the European Union to become more entrepreneurial in promoting innovation and economic growth. The authors propose a reform strategy with respect to several aspects to achieve this goal. Starting with the rule of law and the protection of property rights; the tax system; the authors deal with regulat...

Managing Innovation and Standards
by Paul Moritz Wiegmann
This book provides an in-depth study of the management of standards and regulation in sustainable and radical innovation development. It considers the case of micro Combined Heat and Power (mCHP) technology. The developers of this radical innovation in the European heating sector encountered major conflicts when attempting to create or adapt stand...