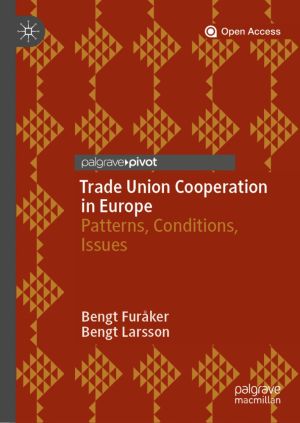 Book Description
This open access book discusses transnational trade union cooperation in Europe – its forms, focuses, conditions, and obstacles. It provides an overview of existing trade union cooperation and includes detailed analyses of two specific questions: the debates on statutory minimum wages and the Posting of Workers Directive. Drawing on empirical research, the authors take a comparative approach, considering national industrial relations regimes as well as individual sectors. With the ongoing processes of integration in Europe, it has become increasingly important for unions to cooperate with regard to employers and EU institutions. The authors illustrate the interconnections between national and European industrial relations, and explore the process of European integration in labour markets. Illustrating the potential for and difficulties involved in deepening trade union cooperation across Europe, this work is a vital read for trade unionists, researchers and students interested in European trade unionism and labour markets.
This open book is licensed under a Creative Commons License (CC BY). You can download Trade Union Cooperation in Europe ebook for free in PDF format (2.1 MB).
Book Details
Subject
Business and Management
Publisher
Palgrave Pivot
Published
2020
Pages
165
Edition
1
Language
English
ISBN13
9783030387693
ISBN10
3030387690
ISBN13 Digital
9783030387709
ISBN10 Digital
3030387704
PDF Size
2.1 MB
License

Related Books

Promoting Social Dialogue in European Organizations
by Martin Euwema, Lourdes Munduate, Patricia Elgoibar, Erica Pender, Ana Belén García
This volume focuses on describing the social dialogue system in organizations from an Human Resources Management perspective. Based on the NEIRE model for industrial relations, key factors are determined contributing to creative social dialogue in European organizations. Actual data from surveys and interviews from more than 700 CEO and HR managers...

Transformation and Development
by Anja Mihr
This book features various studies on democratization, transformation, political and economic development, and security issues in the Organization for Security and Cooperation in Europe (OSCE) geographical region and beyond. Written by experts and academics in the fields of human rights, security, transformation and development, particularly in pos...

Trade Unions on YouTube
by Jenny Jansson, Katrin Uba
This book investigates how trade unions representing different social classes use YouTube videos for renewal purposes. Information and communication technology has undoubtedly offered new opportunities for social movements, but while research suggests that these new means of communication can be used for trade union revitalization, few studies hav...

Solidarity in Europe
by Christian Lahusen, Maria T. Grasso
This open access volume provides evidence-based knowledge on European solidarity and citizen responses in times of crisis. Does the crisis of European integration translate into a crisis of European solidarity, and if yes, what are the manifestations at the level of individual citizens? How strongly is solidarity rooted at the individual level, bot...

Between Mobility and Migration
by Peter Scholten, Mark van Ostaijen
This book offers a critical perspective on intra-European mobility and migration by using new empirical data and theoretical discussions. It develops a theoretical and empirical analysis of the consequences of intra-European movement for sending and receiving urban regions in The Netherlands, Sweden, Austria, Turkey, Poland and Czech Republic. The ...