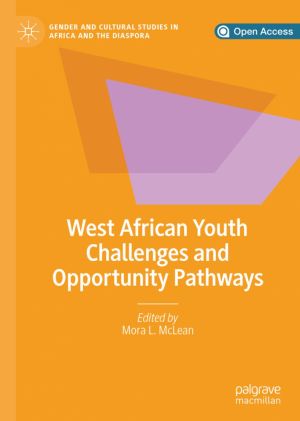 Book Description
This open access edited collection explores obstacles that impede, and potential pathways toward improving, the material and psychological well-being of youth in and from West Africa. Contributors range from researchers to practitioners, offering a transatlantic, transcontinental set of perspectives on the mounting evidence that, whether they reside in poor "underdeveloped" or wealthier (OECD) countries, young people who live in poverty and are African-born or of African descent are disproportionately burdened by the global phenomenon of increasing income inequality.
Mora McLean is Co-Adjutant in the Office of the Chancellor and Office of Globally Engaged Experiential Learning at Rutgers, The State University of New Jersey, USA.
This open book is licensed under a Creative Commons License (CC BY). You can download West African Youth Challenges and Opportunity Pathways ebook for free in PDF format (3.2 MB).
Book Details
Publisher
Palgrave Macmillan
Published
2020
Pages
280
Edition
1
Language
English
ISBN13
9783030210915
ISBN10
303021091X
ISBN13 Digital
9783030210922
ISBN10 Digital
3030210928
PDF Size
3.2 MB
License

Related Books

Energy in Africa
by Manfred Hafner, Simone Tagliapietra, Lucia de Strasser
This book presents a picture of the current energy challenges on the African continent (and the Sub-Saharan region in particular) and proposes pathways to an accelerated energy transition. Starting with an analysis of the status quo and the outlook for Africa's energy demand and energy access, it provides an account of the available resources, incl...

Retirement Home? Ageing Migrant Workers in France and the Question of Return
by Alistair Hunter
This book offers new insights into the ageing-migration nexus and the nature of home. Documenting the hidden world of France's migrant worker hostels, it explores why older North and West African men continue to live past retirement age in this sub-standard housing. Conventional wisdom holds that at retirement labour migrants ought to instead retur...

Children and Peace
by Nikola Balvin, Daniel J. Christie
This free book brings together discourse on children and peace from the 15th International Symposium on the Contributions of Psychology to Peace, covering issues pertinent to children and peace and approaches to making their world safer, fairer and more sustainable. The book is divided into nine sections that examine traditional themes (social con...

Youth Transitions among Descendants of Turkish Immigrants in Amsterdam and Strasbourg:
by Elif Keskiner
This book maps the youth transitions of descendants of migrants from Turkey living in Amsterdam and Strasbourg, through a comparative mixed-methods research design. As such, it is of interest to discussions in youth sociology, social mobility and second-generation research. The book follows transition trajectories of the second-generation, from sch...

Indigenous Knowledge and Education in Africa
by Chika Ezeanya-Esiobu
This book presents a strong philosophical, theoretical and practical argument for the mainstreaming of indigenous knowledge in curricula development, and in teaching and learning across the African continent. Since the dawn of political independence in Africa, there has been an ongoing search for the kind of education that will create a class of pr...