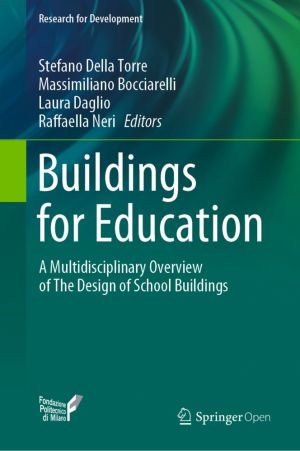 Buildings for Education
A Multidisciplinary Overview of The Design of School Buildings
by Stefano Della Torre, Massimiliano Bocciarelli, Laura Daglio, Raffaella Neri
DOWNLOAD EBOOK
READ ONLINE
SHARE BOOK
QR CODE
Book Description
This book presents theoretical and practical research relating to the vast, publicly financed program for the construction of new schools and the reorganization of existing educational buildings in Italy. This transformative process aims to give old buildings a fresh identity, to ensure that facilities are compliant with the new educational and teaching models, and to improve both energy efficiency and structural safety with respect to seismic activity. The book is divided into three sections, the first of which focuses on the social role of the school as a civic building that can serve the needs of the community. Innovations in both design and construction processes are then analyzed, paying special attention to the Building Information Modeling (BIM) strategy as a tool for the integration of different disciplines. The final section is devoted to the built heritage and tools, technologies, and approaches for the upgrading of existing buildings so that they meet the new regulations on building performance. The book will be of interest to all who wish to learn about the latest insights into the challenges posed by, and the opportunities afforded by, a comprehensive school building and renovation program.
This open book is licensed under a Creative Commons License (CC BY). You can download Buildings for Education ebook for free in PDF format (17.3 MB).
Book Details
Subject
Engineering and Technology
Publisher
Springer
Published
2020
Pages
327
Edition
1
Language
English
ISBN13
9783030336868
ISBN10
3030336867
ISBN13 Digital
9783030336875
ISBN10 Digital
3030336875
PDF Size
17.3 MB
License

Related Books

The Globalization of Science Curricula
by Oliver Stacey, Giulia De Lazzari, Hilary Grayson, Hazel Griffin, Emily Jones, Amanda Taylor, David Thomas
Globalization is a powerful force with far reaching impacts on education and education policy. The growth of large scale international surveys of student achievement and the increasing role played by intergovernmental agencies in education means that the influence that globalization exerts on education is likely to increase even further in the futu...

Indigenous Knowledge and Education in Africa
by Chika Ezeanya-Esiobu
This book presents a strong philosophical, theoretical and practical argument for the mainstreaming of indigenous knowledge in curricula development, and in teaching and learning across the African continent. Since the dawn of political independence in Africa, there has been an ongoing search for the kind of education that will create a class of pr...

Theoretical and Practical Advances in Computer-based Educational Measurement
by Bernard Veldkamp, Cor Sluijter
This book presents a multitude of different, yet related, innovations in educational measurement and provides insight in their practical possibilities.The book not only addresses several improvements in the quality of educational measurement and innovations in (inter)national large scale assessments, but also several advances in psychometrics and i...

Education and Development in Colonial and Postcolonial Africa
by Damiano Matasci, Miguel Bandeira Jerónimo, Hugo Gonçalves Dores
This open access edited volume offers an analysis of the entangled histories of education and development in twentieth-century Africa. It deals with the plurality of actors that competed and collaborated to formulate educational and developmental paradigms and projects: debating their utility and purpose, pondering their necessity and risk, and eva...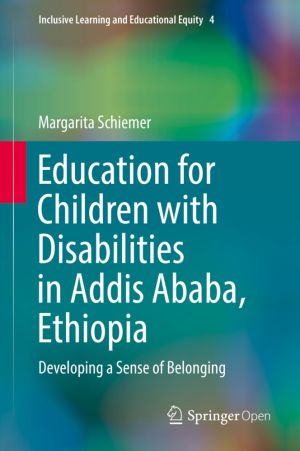 Education for Children with Disabilities in Addis Ababa, Ethiopia
by Margarita Schiemer
This book presents insights into the lived realities of children with disabilities in primary schools in Addis Ababa, Ethiopia. It examines specific cultural and societal characteristics of Ethiopia that influence the education of children with disabilities. The book presents findings drawn from interviews with, and participant observation of the s...

Successful Global Collaborations in Higher Education Institutions
by Abdulrahman AI-Youbi, Adnan H. M. Zahed, William G. Tierney
This book written by international experts in the field of educational innovation is a guide for universities to become world-class universities. It contributes to the current international intellectual debate on the future of higher education. It also tells the story of King Abdulaziz University in Jeddah (Saudi Arabia) and its effort to become a ...