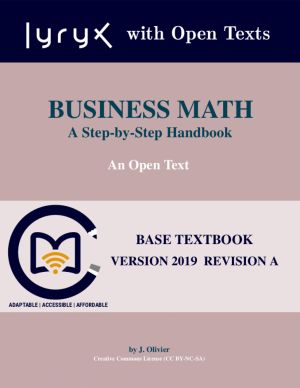 Book Description
Business Mathematics was written to meet the needs of a twenty-first century student. It takes a systematic approach to helping students learn how to think and centers on a structured process termed the PUPP Model (Plan, Understand, Perform, and Present). This process is found throughout the text and in every guided example to help students develop a step-by-step problem-solving approach.
This textbook simplifies and integrates annuity types and variable calculations, utilizes relevant algebraic symbols, and is integrated with the Texas Instruments BAII+ calculator. It also contains structured exercises, annotated and detailed formulas, and relevant personal and professional applications in discussion, guided examples, case studies, and even homework questions.
This open book is licensed under a Creative Commons License (CC BY-NC-SA). You can download Business Math ebook for free in PDF format (18.2 MB).
Table of Contents
Chapter 1
Succeeding In Business Mathematics
Chapter 2
Back To The Basics
Chapter 3
General Business Management Applications
Chapter 4
Human Resources and Economic Applications
Chapter 5
Marketing and Accounting Fundamentals
Chapter 6
Marketing Applications
Chapter 7
Accounting Applications
Chapter 8
Simple Interest: Working with Single Payments and Applications
Chapter 9
Compound Interest: Working with Single Payments
Chapter 10
Compound Interest: Applications Involving Single Payments
Chapter 11
Compound Interest: Annuities
Chapter 12
Compound Interest: Special Applications of Annuities
Chapter 13
Understanding Amortization and Its Applications
Chapter 14
Bonds and Sinking Funds
Chapter 15
Making Good Decisions
Book Details
Publisher
Lyryx
Published
2019
Pages
723
Edition
1
Language
English
PDF Size
18.2 MB
License

Related Books

Excel Data Analysis
by Hector Guerrero
This book offers a comprehensive and readable introduction to modern business and data analytics. It is based on the use of Excel, a tool that virtually all students and professionals have access to. The explanations are focused on understanding the techniques and their proper application, and are supplemented by a wealth of in-chapter and end-of-c...

Stochastic Discounted Cash Flow
by Lutz Kruschwitz, Andreas Löffler
This free book discusses firm valuation, which is of interest to economists, particularly those working in finance. Firm valuation comes down to the calculation of the discounted cash flow, often only referred to by its abbreviation, DCF. There are, however, different coexistent versions, which seem to compete against each other, such as entity app...

Business Process Management Cases
by Jan vom Brocke, Jan Mendling
This book is the first to present a rich selection of over 30 real-world cases of how leading organizations conduct Business Process Management (BPM). The cases stem from a diverse set of industry sectors and countries on different continents, reporting on best practices and lessons learned. The book showcases how BPM can contribute to both exploit...

Global Business Strategy
by Kazuyuki Motohashi
This book presents theories and case studies for corporations in developed nations, including Japan, for designing strategies to maximize opportunities and minimize threats in business expansion into developing nations. The case studies featured here focus on Asia, including China and India, and use examples of Japanese manufacturers. Five case st...

RESTART Sustainable Business Model Innovation
by Sveinung Jørgensen, Lars Jacob Tynes Pedersen
Taking the business model as point of departure, this book explores how companies and organizations can contribute to a more sustainable future by designing innovative models that are both sustainable and profitable. Based upon years of research, it draws together theoretical foundations and existing literature on the topic of sustainable business ...

Dynamics of Long-Life Assets
by Stefan N. Grösser, Arcadio Reyes-Lecuona, Göran Granholm
The editors present essential methods and tools to support a holistic approach to the challenge of system upgrades and innovation in the context of high-value products and services. The approach presented here is based on three main pillars: an adaptation mechanism based on a broad understanding of system dependencies; efficient use of system knowl...