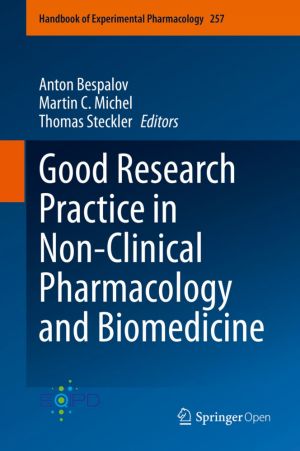 Book Description
This free book provides up-to-date information on best practice to improve experimental design and quality of research in non-clinical pharmacology and biomedicine.
This open book is licensed under a Creative Commons License (CC BY). You can download Good Research Practice in Non-Clinical Pharmacology and Biomedicine ebook for free in PDF format (8.7 MB).
Book Details
Subject
Medical
Publisher
Springer
Published
2020
Pages
424
Edition
1
Language
English
ISBN13
9783030336554
ISBN10
3030336557
ISBN13 Digital
9783030336561
ISBN10 Digital
3030336565
PDF Size
8.7 MB
License

Related Books

Digital Technology and the Practices of Humanities Research
by Jennifer Edmond
How does technology impact research practices in the humanities? How does digitisation shape scholarly identity? How do we negotiate trust in the digital realm? What is scholarship, what forms can it take, and how does it acquire authority? This diverse set of essays demonstrate the importance of asking such questions, bringing together establis...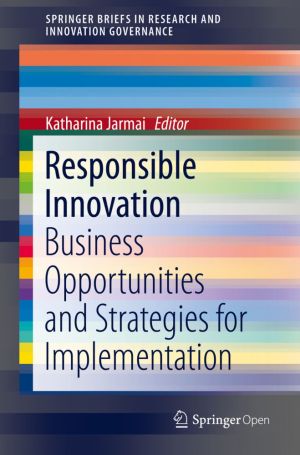 Responsible Innovation
by Katharina Jarmai
This Open Access book, Responsible innovation provides benefits for society, for instance more sustainable products, more engagement with consumers and less anxiety about emerging technologies. As a governance tool it is mostly driven by research funders, including the European Commission, under the term "responsible research and innovation&qu...

Research Assessment in the Humanities
by Michael Ochsner, Sven E. Hug, Hans-Dieter Daniel
This book is open access, which means that you have free and unlimited access.This book analyses and discusses the recent developments for assessing research quality in the humanities and related fields in the social sciences. Research assessments in the humanities are highly controversial and the evaluation of humanities research is delicate. Whi...

Mergers and Alliances in Higher Education
by Adrian Curaj, Luke Georghiou, Jennifer Cassingena Harper, Eva Egron-Polak
Higher education in Europe and beyond faces a series of major challenges. The economic crisis has accelerated expectations of an increased role in addressing economic and societal challenges while, at the same time, putting pressure on available finances. Broader trends such as shifting student demographics and expectations, globalisation and mobil...

Innovative Medicine
by Kazuwa Nakao, Nagahiro Minato, Shinji Uemoto
This book is devoted to innovative medicine, comprising the proceedings of the Uehara Memorial Foundation Symposium 2014. It remains extremely rare for the findings of basic research to be developed into clinical applications, and it takes a long time for the process to be achieved. The task of advancing the development of basic research into clini...

Data-Driven Policy Impact Evaluation
by Nuno Crato, Paolo Paruolo
In the light of better and more detailed administrative databases, this book provides statistical tools for evaluating the effects of public policies advocated by governments and public institutions. Experts from academia, national statistics offices and various research centers present modern econometric methods for an efficient data-driven policy...