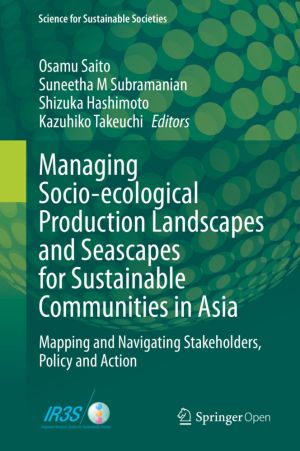 Managing Socio-ecological Production Landscapes and Seascapes for Sustainable Communities in Asia
Mapping and Navigating Stakeholders, Policy and Action
by Osamu Saito, Suneetha M Subramanian, Shizuka Hashimoto, Kazuhiko Takeuchi
DOWNLOAD EBOOK
READ ONLINE
SHARE BOOK
QR CODE
Book Description
This free book presents up-to-date analyses of community-based approaches to sustainable resource management of SEPLS (socio-ecological production landscapes and seascapes) in areas where a harmonious relationship between the natural environment and the people who inhabit it is essential to ensure community and environmental well-being as well as to build resilience in the ecosystems that support this well-being. Understanding SEPLS and the forces of change that can weaken their resilience requires the integration of knowledge across a wide range of academic disciplines as well as from indigenous knowledge and experience. Moreover, given the wide variation in the socio-ecological makeup of SEPLS around the globe, as well as in their political and economic contexts, individual communities will be at the forefront of developing the measures appropriate for their unique circumstances. This in turn requires robust communication systems and broad participatory approaches.
Sustainability science (SuS) research is highly integrated, participatory and solutions driven, and as such is well suited to the study of SEPLS. Through case studies, literature reviews and SuS analyses, the book explores various approaches to stakeholder participation, policy development and appropriate action for the future of SEPLS. It provides communities, researchers and decision-makers at various levels with new tools and strategies for exploring scenarios and creating future visions for sustainable societies.
This open book is licensed under a Creative Commons License (CC BY). You can download Managing Socio-ecological Production Landscapes and Seascapes for Sustainable Communities in Asia ebook for free in PDF format (7.1 MB).
Book Details
Publisher
Springer
Published
2020
Pages
188
Edition
1
Language
English
ISBN13
9789811511325
ISBN10
9811511322
ISBN13 Digital
9789811511332
ISBN10 Digital
9811511330
PDF Size
7.1 MB
License

Related Books

Youth Transitions among Descendants of Turkish Immigrants in Amsterdam and Strasbourg:
by Elif Keskiner
This book maps the youth transitions of descendants of migrants from Turkey living in Amsterdam and Strasbourg, through a comparative mixed-methods research design. As such, it is of interest to discussions in youth sociology, social mobility and second-generation research. The book follows transition trajectories of the second-generation, from sch...

Education and Skills for Inclusive Growth, Green Jobs and the Greening of Economies in Asia
by Rupert Maclean, Shanti Jagannathan, Brajesh Panth
This book presents an overview of the main research findings and case studies concerning education and skills for inclusive growth, green jobs and the greening of economies. Focusing on India, Indonesia, Sri Lanka and Viet Nam, it discusses government and business sector responses to these issues and how Technical and Vocational Education and Train...

Children's Exploration and Cultural Formation
by Mariane Hedegaard, Elin Eriksen Ødegaard
This open access book examines the educational conditions that support cultures of exploration in kindergartens. It conceptualises cultures of exploration, whether those cultures are created through children's own engagement or are demanded of them through undertaking specific tasks within different institutional settings. It shows how the conditio...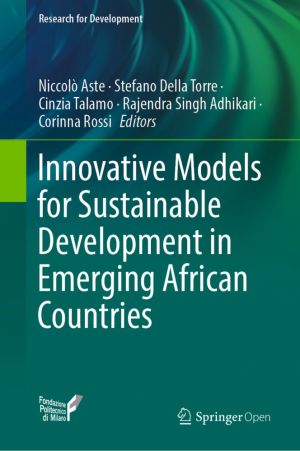 Innovative Models for Sustainable Development in Emerging African Countries
by Niccolò Aste, Stefano Della Torre, Cinzia Talamo, Rajendra Singh Adhikari, Corinna Rossi
This free book explores key issues and presents recent case studies in areas of importance for the transition to a circular model of development in emerging African countries that will minimize resource consumption and waste production. The topics covered include the development of sustainable housing models, energy and environmental issues in buil...

Data and Text Processing for Health and Life Sciences
by Francisco Couto
This book is a step-by-step introduction on how shell scripting can help solve many of the data processing tasks that Health and Life specialists face everyday with minimal software dependencies. The examples presented in the book show how simple command line tools can be used and combined to retrieve data and text from web resources, to filter and...