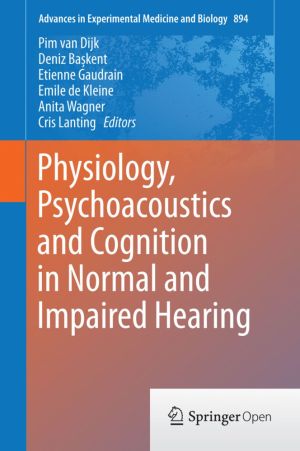 Physiology, Psychoacoustics and Cognition in Normal and Impaired Hearing
by Pim van Dijk, Deniz Başkent, Etienne Gaudrain, Emile de Kleine, Anita Wagner, Cris Lanting
DOWNLOAD EBOOK
READ ONLINE
SHARE BOOK
QR CODE
Book Description
The International Symposium on Hearing is a prestigious,triennial gathering where world-class scientists present and discuss the most recent advances in the field of human and animal hearing research. The 2015 edition will particularly focus on integrative approaches linking physiological, psychophysical and cognitive aspects of normal and impaired hearing. Like previous editions, the proceedings will contain about 50 chapters ranging from basic to applied research, and of interest to neuroscientists, psychologists, audiologists, engineers, otolaryngologists, and artificial intelligent researchers.
This open book is licensed under a Creative Commons License (CC BY-NC). You can download Physiology, Psychoacoustics and Cognition in Normal and Impaired Hearing ebook for free in PDF format (19.8 MB).
Book Details
Subject
Medical
Publisher
Springer
Published
2016
Pages
487
Edition
1
Language
English
ISBN13
9783319254722
ISBN10
3319254723
ISBN13 Digital
9783319254746
ISBN10 Digital
331925474X
PDF Size
19.8 MB
License

Related Books

Transformation and Development
by Anja Mihr
This book features various studies on democratization, transformation, political and economic development, and security issues in the Organization for Security and Cooperation in Europe (OSCE) geographical region and beyond. Written by experts and academics in the fields of human rights, security, transformation and development, particularly in pos...

Mergers and Alliances in Higher Education
by Adrian Curaj, Luke Georghiou, Jennifer Cassingena Harper, Eva Egron-Polak
Higher education in Europe and beyond faces a series of major challenges. The economic crisis has accelerated expectations of an increased role in addressing economic and societal challenges while, at the same time, putting pressure on available finances. Broader trends such as shifting student demographics and expectations, globalisation and mobil...


Geographies of Asylum in Europe and the Role of European Localities
by Birgit Glorius, Jeroen Doomernik
This book describes how the numerous arrivals of asylum seekers since 2015 shaped reception and integration processes in Europe. It addresses the structuration of asylum and reception systems, and spaces and places of reception on European, national, regional and local level. It also analyses perceptions and discourses on asylum and refugees, their...

Dynamic Spectrum Management
by Ying-Chang Liang
This open access book, authored by a world-leading researcher in this field, describes fundamentals of dynamic spectrum management, provides a systematic overview on the enabling technologies covering cognitive radio, blockchain, and artificial intelligence, and offers valuable guidance for designing advanced wireless communications systems. This b...