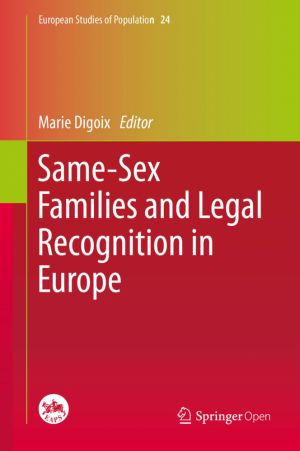 Book Description
This free book focuses on family diversity from a legal, demographical and sociological perspective. It investigates what is at stake in the life of homosexuals in the field of family formation, parenting and parenthood, what it brings to everyday life, the support of the law, and what its absence implies. The book shows the paths leading to the adoption of laws while demographic analyses concentrate on the link between registration of same-sex marriages and same-sex parenting with a detailed focus on Spain. The sociological chapters in this book, based upon qualitative surveys in France, Iceland and Italy, underline how the importance of the legal structure influenced the daily life of homosexual families. As such this book is an interesting read to lawyers, demographers, sociologists, behavioural scientists, and all those working in the field.
This open book is licensed under a Creative Commons License (CC BY). You can download Same-Sex Families and Legal Recognition in Europe ebook for free in PDF format (2.4 MB).
Book Details
Publisher
Springer
Published
2020
Pages
181
Edition
1
Language
English
ISBN13
9783030370534
ISBN10
3030370534
ISBN13 Digital
9783030370541
ISBN10 Digital
3030370542
PDF Size
2.4 MB
License

Related Books

Solidarity in Europe
by Christian Lahusen, Maria T. Grasso
This open access volume provides evidence-based knowledge on European solidarity and citizen responses in times of crisis. Does the crisis of European integration translate into a crisis of European solidarity, and if yes, what are the manifestations at the level of individual citizens? How strongly is solidarity rooted at the individual level, bot...

Migrating and Settling in a Mobile World
by Zana Vathi
This book draws on award-winning cross-generational research comparing the complex and life-changing processes of settlement among Albanian migrants and their adolescent children in three European cities: London (UK), Thessaloniki (Greece), and Florence (Italy). Building on key concepts from the social sciences and migration studies, such as identi...

Geographies of Asylum in Europe and the Role of European Localities
by Birgit Glorius, Jeroen Doomernik
This book describes how the numerous arrivals of asylum seekers since 2015 shaped reception and integration processes in Europe. It addresses the structuration of asylum and reception systems, and spaces and places of reception on European, national, regional and local level. It also analyses perceptions and discourses on asylum and refugees, their...

European E-Democracy in Practice
by Leonhard Hennen, Ira van Keulen, Iris Korthagen, Georg Aichholzer, Ralf Lindner, Rasmus Øjvind Nielsen
This free book explores how digital tools and social media technologies can contribute to better participation and involvement of EU citizens in European politics. By analyzing selected representative e-participation projects at the local, national and European governmental levels, it identifies the preconditions, best practices and shortcomings of...

Transformation and Development
by Anja Mihr
This book features various studies on democratization, transformation, political and economic development, and security issues in the Organization for Security and Cooperation in Europe (OSCE) geographical region and beyond. Written by experts and academics in the fields of human rights, security, transformation and development, particularly in pos...