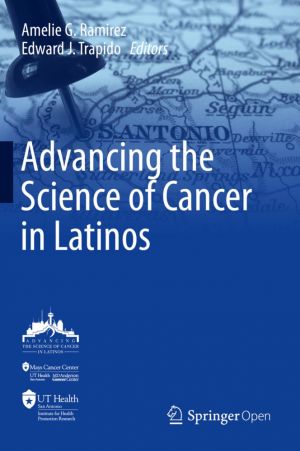 Book Description
This book gives an overview of the sessions, panel discussions, and outcomes of the Advancing the Science of Cancer in Latinos conference, held in February 2018 in San Antonio, Texas, USA, and hosted by the Mays Cancer Center and the Institute for Health Promotion Research at UT Health San Antonio.Latinos – the largest, youngest, and fastest-growing minority group in the United States – are expected to face a 142% rise in cancer cases in coming years. Although there has been substantial advancement in cancer prevention, screening, diagnosis, and treatment over the past few decades, addressing Latino cancer health disparities has not nearly kept pace with progress.The diverse and dynamic group of speakers and panelists brought together at the Advancing the Science of Cancer in Latinos conference provided in-depth insights as well as progress and actionable goals for Latino-focused basic science research, clinical best practices, community interventions, and what can be done by way of prevention, screening, diagnosis, and treatment of cancer in Latinos. These insights have been translated into the chapters included in this compendium; the chapters summarize the presentations and include current knowledge in the specific topic areas, identified gaps, and top priority areas for future cancer research in Latinos.Topics included among the chapters:Colorectal cancer disparities in Latinos: Genes vs. EnvironmentBreast cancer risk and mortality in women of Latin American originDifferential cancer risk in Latinos: The role of dietOvercoming barriers for Latinos on cancer clinical trialsEs tiempo: Engaging Latinas in cervical cancer researchEmerging policies in U.S. health careAdvancing the Science of Cancer in Latinos proves to be an indispensable resource offering key insights into actionable targets for basic science research, suggestions for clinical best practices and community interventions, and novel strategies and advocacy opportunities to reduce health disparities in Latino communities. It will find an engaged audience among researchers, academics, physicians and other healthcare professionals, patient advocates, students, and others with an interest in the broad field of Latino cancer.
This open book is licensed under a Creative Commons License (CC BY-NC). You can download Advancing the Science of Cancer in Latinos ebook for free in PDF format (4.8 MB).
Book Details
Subject
Medical
Publisher
Springer
Published
2020
Pages
320
Edition
1
Language
English
ISBN13
9783030292850
ISBN10
3030292851
ISBN13 Digital
9783030292867
ISBN10 Digital
303029286X
PDF Size
4.8 MB
License

Related Books

Education and Skills for Inclusive Growth, Green Jobs and the Greening of Economies in Asia
by Rupert Maclean, Shanti Jagannathan, Brajesh Panth
This book presents an overview of the main research findings and case studies concerning education and skills for inclusive growth, green jobs and the greening of economies. Focusing on India, Indonesia, Sri Lanka and Viet Nam, it discusses government and business sector responses to these issues and how Technical and Vocational Education and Train...

The Politics of Language Contact in the Himalaya
by Selma K. Sonntag, Mark Turin
This highly original and timely collection brings together case studies from salient areas of the Himalayan region to explore the politics of language contact. Promoting a linguistically and historically grounded perspective, The Politics of Language Contact in the Himalaya offers nuanced insights into language and its relation to power in this geo...

Energy and the Wealth of Nations
by Charles A.S. Hall, Kent Klitgaard
In this updated edition of a groundbreaking text, concepts such as energy return on investment (EROI) provide powerful insights into the real balance sheets that drive our "petroleum economy." Hall and Klitgaard explore the relation between energy and the wealth explosion of the 20th century, and the interaction of internal limits to grow...

Innovative Medicine
by Kazuwa Nakao, Nagahiro Minato, Shinji Uemoto
This book is devoted to innovative medicine, comprising the proceedings of the Uehara Memorial Foundation Symposium 2014. It remains extremely rare for the findings of basic research to be developed into clinical applications, and it takes a long time for the process to be achieved. The task of advancing the development of basic research into clini...

Solidarity in Europe
by Christian Lahusen, Maria T. Grasso
This open access volume provides evidence-based knowledge on European solidarity and citizen responses in times of crisis. Does the crisis of European integration translate into a crisis of European solidarity, and if yes, what are the manifestations at the level of individual citizens? How strongly is solidarity rooted at the individual level, bot...