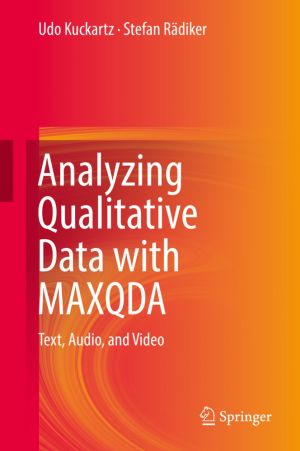 Book Description
This book presents strategies for analyzing qualitative and mixed methods data with MAXQDA software, and provides guidance on implementing a variety of research methods and approaches, e.g. grounded theory, discourse analysis and qualitative content analysis, using the software. In addition, it explains specific topics, such as transcription, building a coding frame, visualization, analysis of videos, concept maps, group comparisons and the creation of literature reviews. The book is intended for masters and PhD students as well as researchers and practitioners dealing with qualitative data in various disciplines, including the educational and social sciences, psychology, public health, business or economics.
This open book is licensed under a Creative Commons License (CC BY). You can download Analyzing Qualitative Data with MAXQDA ebook for free in PDF format (11.0 MB).
Book Details
Publisher
Springer
Published
2019
Pages
293
Edition
1
Language
English
ISBN13
9783030156701
ISBN10
3030156702
ISBN13 Digital
9783030156718
ISBN10 Digital
3030156710
PDF Size
11.0 MB
License

Related Books

Learning Neo4j
by Rik Van Bruggen
Neo4j is the world's leading graph database and offers users a radical new way of dealing with connected data. This book has been created to help you get to grips with it, providing you with an accessible route through a tool built to contend with the complexity of modern data. Learn the fundamental concepts behind Neo4j, and put them into practice...

Graph Databases
by Ian Robinson, Jim Webber, Emil Eifrem
Discover how graph databases can help you manage and query highly connected data. With this practical book, you'll learn how to design and implement a graph database that brings the power of graphs to bear on a broad range of problem domains. Whether you want to speed up your response to user queries or build a database that can adapt as your busin...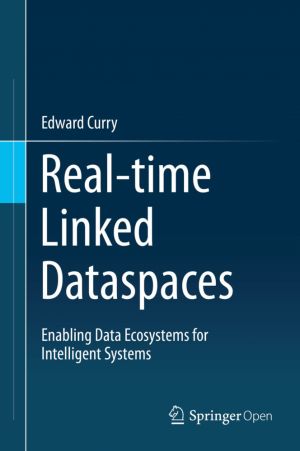 Real-time Linked Dataspaces
by Edward Curry
This book explores the dataspace paradigm as a best-effort approach to data management within data ecosystems. It establishes the theoretical foundations and principles of real-time linked dataspaces as a data platform for intelligent systems. The book introduces a set of specialized best-effort techniques and models to enable loose administrative ...

New Horizons for a Data-Driven Economy
by José María Cavanillas, Edward Curry, Wolfgang Wahlster
In this book readers will find technological discussions on the existing and emerging technologies across the different stages of the big data value chain. They will learn about legal aspects of big data, the social impact, and about education needs and requirements. And they will discover the business perspective and how big data technology can be...

Evolutionary Genomics
by Maria Anisimova
This book addresses the challenge of analyzing and understanding the evolutionary dynamics of complex biological systems at the genomic level, and elaborates on some promising strategies that would bring us closer to uncovering of the vital relationships between genotype and phenotype. After a few educational primers, the book continues with sectio...