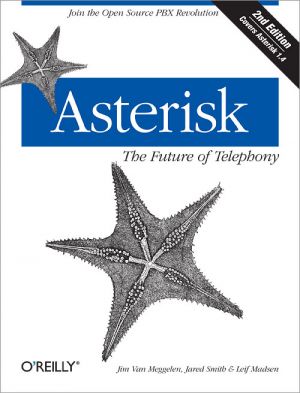 Book Description
This bestselling book is now the standard guide to building phone systems with Asterisk, the open source IP PBX that has traditional telephony providers running scared! Revised for the 1.4 release of the software, the new edition of Asterisk: The Future of Telephony reveals how you can save money on equipment and support, and finally be in control of your telephone system.
If you've worked with telephony in the past, you're familiar with the problem: expensive and inflexible systems that are tuned to the vendor's needs, not yours. Asterisk isn't just a candle in the darkness, it's a whole fireworks show. Because Asterisk is so powerful, configuring it can seem tricky and difficult. This book steps you through the process of installing, configuring, and integrating Asterisk with your existing phone system.
You'll learn how to write dialplans, set up applications including speech synthesis and voice recognition, how to script Asterisk, and much more - everything you need to design a simple but complete system with little or no Asterisk experience, and no more than rudimentary telecommunications knowledge. The book includes:
- A new chapter on managing/administering your Asterisk system
- A new chapter on using Asterisk with databases
- Coverage of features in Asterisk 1.4
- A new appendix on dialplan functions
- A simplified installation chapter
- New simplified SIP configuration, including examples for several popular SIP clients (soft phones and IP telephones)
- Revised chapters and appendicies reviewed and updated for the latest in features, applications, trends and best-practices
Asterisk is revolutionizing the telecom industry, due in large part to the way it gets along with other network applications. While other PBXs are fighting their inevitable absorption into the network, Asterisk embraces it. If you need to take control of your telephony systems, move to Asterisk and see what the future of telecommunications looks like.
This open book is licensed under a Creative Commons License (CC BY). You can download Asterisk: The Future of Telephony ebook for free in PDF format (15.0 MB).
Table of Contents
Chapter 1
A Telephony Revolution
1
Chapter 2
Preparing a System for Asterisk
11
Chapter 3
Installing Asterisk
37
Chapter 4
Initial Configuration of Asterisk
69
Chapter 5
Dialplan Basics
119
Chapter 6
More Dialplan Concepts
145
Chapter 7
Understanding Telephony
167
Chapter 8
Protocols for VoIP
185
Chapter 9
The Asterisk Gateway Interface (AGI)
207
Chapter 10
Asterisk Manager Interface (AMI) and Adhearsion
227
Chapter 11
The Asterisk GUI Framework
245
Chapter 12
Relational Database Integration
263
Chapter 13
Managing Your Asterisk System
293
Chapter 14
Potpourri
303
Chapter 15
Asterisk: The Future of Telephony
317
Appendix A
VoIP Channels
337
Appendix B
Application Reference
367
Appendix C
AGI Reference
449
Appendix D
Configuration Files
461
Appendix E
Asterisk Dialplan Functions
493
Appendix F
Asterisk Manager Interface Actions
515
Appendix G
An Example of func_odbc 551
Book Details
Subject
Computer Science
Publisher
O'Reilly Media
Published
2009
Pages
604
Edition
2
Language
English
ISBN13 Digital
9780596510480
ISBN10 Digital
0596510489
PDF Size
15.0 MB
License

Related Books

The Academic Book of the Future
by Rebecca E. Lyons, Samantha J. Rayner
Part of the AHRC/British Library Academic Book of the Future Project, this book interrogates current and emerging contexts of academic books from the perspectives of thirteen expert voices from the connected communities of publishing, academia, libraries, and bookselling....

Building a Cashless Society
by Niklas Arvidsson
This free book tells the story of how Sweden is becoming a virtually cashless society. Its goal is to improve readers' understanding of what is driving this transition, and of the factors that are fostering and hampering it. In doing so, the book covers the role of central banks, political factors, needs for innovation, and the stakeholders involve...

The Future of Election Administration
by Mitchell Brown, Kathleen Hale, Bridgett A. King
As the American election administration landscape changes as a result of major court cases, national and state legislation, changes in professionalism, and the evolution of equipment and security, so must the work of on-the-ground practitioners change. This Open Access title presents a series of case studies designed to highlight practical response...

Digital Technology and the Practices of Humanities Research
by Jennifer Edmond
How does technology impact research practices in the humanities? How does digitisation shape scholarly identity? How do we negotiate trust in the digital realm? What is scholarship, what forms can it take, and how does it acquire authority? This diverse set of essays demonstrate the importance of asking such questions, bringing together establis...

Disrupted Development and the Future of Inequality in the Age of Automation
by Lukas Schlog, lAndy Sumner
This book examines the future of inequality, work and wages in the age of automation with a focus on developing countries. The authors argue that the rise of a global 'robot reserve army' has profound effects on labor markets and economic development, but, rather than causing mass unemployment, new technologies are more likely to lead to stagnant w...