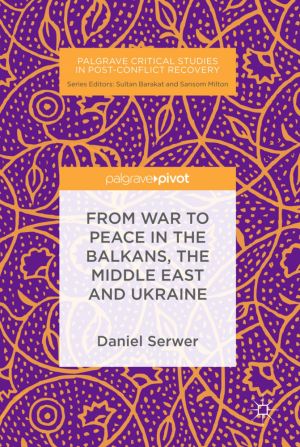 Book Description
This book focuses on the origins, consequences and aftermath of the 1995 and 1999 Western military interventions that led to the end of the most recent Balkan wars. Though challenging problems remain in Bosnia, Macedonia, Kosovo, and Serbia, the conflict prevention and state-building efforts thereafter were partly successful as countries of the region are on separate tracks towards European Union membership. This study highlights lessons that can be applied to the Middle East and Ukraine, where similar conflicts are likewise challenging sovereignty and territorial integrity. It is an accessible treatment of what makes war and how to make peace ideal for all readers interested in how violent international conflicts can be managed, informed by the experience of a practitioner.
Daniel Serwer is Professor and Director of the Conflict Management program at the Johns Hopkins School of Advanced International Studies, Johns Hopkins University, USA.
This open book is licensed under a Creative Commons License (CC BY). You can download From War to Peace in the Balkans, the Middle East and Ukraine ebook for free in PDF format (2.3 MB).
Book Details
Subject
Politics and Government
Publisher
Palgrave Pivot
Published
2019
Pages
155
Edition
1
Language
English
ISBN13
9783030021726
ISBN10
3030021726
ISBN13 Digital
9783030021733
ISBN10 Digital
3030021734
PDF Size
2.3 MB
License

Related Books

Dignity in the 21st Century
by Doris Schroeder, Abol‐Hassan Bani-Sadr
This book offers a unique and insightful analysis of Western and Middle Eastern concepts of dignity and illustrates them with examples of everyday life. Dignity in the 21st Century - Middle East and West is unique and insightful for a range of reasons. First, the book is co-authored by scholars from two different cultures (Middle East and West). As...

A Memory of Ice
by Elizabeth Truswell
In the southern summer of 1972/73, the Glomar Challenger was the first vessel of the international Deep Sea Drilling Project to venture into the seas surrounding Antarctica, confronting severe weather and ever-present icebergs. A Memory of Ice presents the science and the excitement of that voyage in a manner readable for non-scientists. Woven i...

United Nations Peace Operations in a Changing Global Order
by Cedric de Coning, Mateja Peter
This open access volume explores how UN peace operations are adapting to four trends in the changing global order: (1) the rebalancing of relations between states of the global North and the global South; (2) the rise of regional organisations as providers of peace; (3) the rise of violent extremism and fundamentalist non-state actors; and (4) incr...

R.J. Rummel: An Assessment of His Many Contributions
by Nils Petter Gleditsch
The book provides a critical and constructive assessment of the many contributions to social science and politics made by Professor R. J. Rummel. Rummel was a prolific writer and an important teacher and mentor to a number of people who in turn have made their mark on the profession. His work has always been controversial. But after the end of the ...

The Privacy Engineer's Manifesto
by Michelle Finneran Dennedy, Jonathan Fox, Thomas R. Finneran
The Privacy Engineer's Manifesto: Getting from Policy to Code to QA to Value is the first book of its kind, offering industry-proven solutions that go beyond mere theory and adding lucid perspectives on the challenges and opportunities raised with the emerging "personal" information economy. The authors, a uniquely skilled team of long...