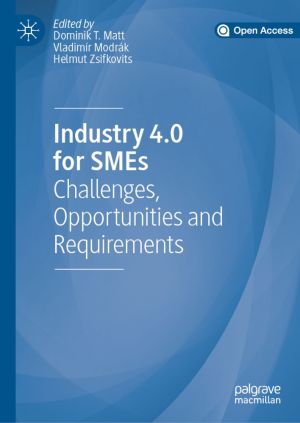 Book Description
This free book explores the concept of Industry 4.0, which presents a considerable challenge for the production and service sectors. While digitization initiatives are usually integrated into the central corporate strategy of larger companies, smaller firms often have problems putting Industry 4.0 paradigms into practice. Small and medium-sized enterprises (SMEs) possess neither the human nor financial resources to systematically investigate the potential and risks of introducing Industry 4.0. Addressing this obstacle, the international team of authors focuses on the development of smart manufacturing concepts, logistics solutions and managerial models specifically for SMEs. Aiming to provide methodological frameworks and pilot solutions for SMEs during their digital transformation, this innovative and timely book will be of great use to scholars researching technology management, digitization and small business, as well as practitioners within manufacturing companies.
This open book is licensed under a Creative Commons License (CC BY). You can download Industry 4.0 for SMEs ebook for free in PDF format (8.8 MB).
Book Details
Subject
Business and Management
Publisher
Palgrave Macmillan
Published
2020
Pages
435
Edition
1
Language
English
ISBN13
9783030254247
ISBN10
3030254240
ISBN13 Digital
9783030254254
ISBN10 Digital
3030254259
PDF Size
8.8 MB
License

Related Books

Drones and the Creative Industry
by Virginia Santamarina-Campos, Marival Segarra-Oña
This open access, interdisciplinary book presents innovative strategies in the use of civil drones in the cultural and creative industry. Specially aimed at small and medium-sized enterprises (SMEs), the book offers valuable insights from the fields of marketing, engineering, arts and management. With contributions from experts representing varied ...

The Chinese Economic Transformation
by Ligang Song, Yixiao Zhou, Luke Hurst
The Chinese Economic Transformation, the 19th volume in the China Update book series, provides an opportunity for young economists to share their views on various issues relating to the Chinese economic transformation. More than half of the contributors to this book are female scholars. Some of the contributors are rising stars in the studies of th...

Weather & Climate Services for the Energy Industry
by Alberto Troccoli
This book showcases the burgeoning area of applied research at the intersection between weather and climate science and the energy industry. It illustrates how better communication between science and industry can help both sides. By opening a dialogue, scientists can understand the broader context for their work and the energy industry is able to ...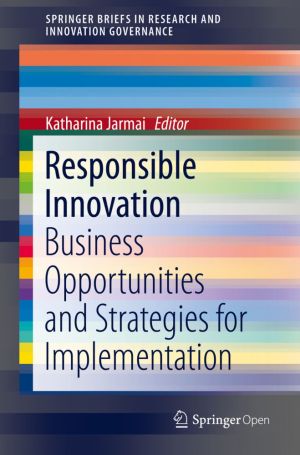 Responsible Innovation
by Katharina Jarmai
This Open Access book, Responsible innovation provides benefits for society, for instance more sustainable products, more engagement with consumers and less anxiety about emerging technologies. As a governance tool it is mostly driven by research funders, including the European Commission, under the term "responsible research and innovation&qu...

Ethics and Civil Drones
by María de Miguel Molina, Virginia Santamarina Campos
This book disseminates some of the results of the European H2020 AiRT Project (Technology transfer of RPAs for the creative industry). In particular, it presents findings related to mitigating safety and security concerns when civil drones are piloted by the service sector (mainly, the creative industry). European policies regarding drones generall...