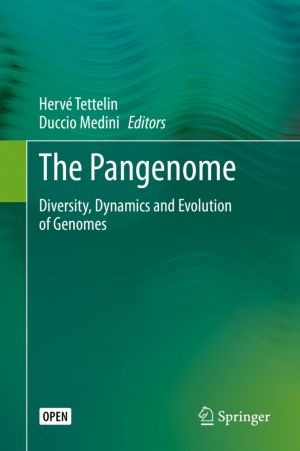 Book Description
This open access book offers the first comprehensive account of the pan-genome concept and its manifold implications.
The realization that the genetic repertoire of a biological species always encompasses more than the genome of each individual is one of the earliest examples of big data in biology that opened biology to the unbounded. The study of genetic variation observed within a species challenges existing views and has profound consequences for our understanding of the fundamental mechanisms underpinning bacterial biology and evolution. The underlying rationale extends well beyond the initial prokaryotic focus to all kingdoms of life and evolves into similar concepts for metagenomes, phenomes and epigenomes.
The book's respective chapters address a range of topics, from the serendipitous emergence of the pan-genome concept and its impacts on the fields of microbiology, vaccinology and antimicrobial resistance, to the study of microbial communities, bioinformatic applications and mathematical models that tie in with complex systems and economic theory.
Given its scope, the book will appeal to a broad readership interested in population dynamics, evolutionary biology and genomics.
This open book is licensed under a Creative Commons License (CC BY). You can download The Pangenome ebook for free in PDF format (9.0 MB).
Book Details
Publisher
Springer
Published
2020
Pages
311
Edition
1
Language
English
ISBN13
9783030382803
ISBN10
303038280X
ISBN13 Digital
9783030382810
ISBN10 Digital
3030382818
PDF Size
9.0 MB
License

Related Books

Social Theory of Fear
by Geoffrey R. Skoll
In the current crisis of the capitalist world system, elites promote fear of crime and terrorism to keep and expand their privileges and control the masses. This book offers an analysis of the crisis and strategies for rebellion....

Humanities World Report 2015
by Poul Holm, Arne Jarrick, Dominic Scott
The first of its kind, this Open Access 'Report' is a first step in assessing the state of the humanities worldwide. Based on an extensive literature review and enlightening interviews the book discusses the value of the humanities, the nature of humanities research and the relation between humanities and politics, amongst other issues....

Knowledge and Action
by Peter Meusburger, Benno Werlen, Laura Suarsana
This volume explores interdependencies between knowledge, action, and space from different interdisciplinary perspectives. Some of the contributors discuss knowledge as a social construct based on collective action, while others look at knowledge as an individual capacity for action. The chapters contain theoretical frameworks as well as experiment...

Theories in and of Mathematics Education
by Angelika Bikner-Ahsbahs, Andreas Vohns, Oliver Schmitt, Regina Bruder, Willi Dörfler
This survey provides an overview of German meta-discourse on theories and mathematics education as a scientific discipline, from the 1970s to the 1990s. Two theory strands are offered: a semiotic view related to Peirce and Wittgenstein (presented by Willibald Dörfler), and the theory of learning activity by Joachim Lompscher (presented by Regina B...

Model-Based Demography
by Thomas Burch
Late in a career of more than sixty years, Thomas Burch, an internationally known social demographer, undertook a wide-ranging methodological critique of demography. This open access volume contains a selection of resulting papers, some previously unpublished, some published but not readily accessible [from past meetings of The International Union...