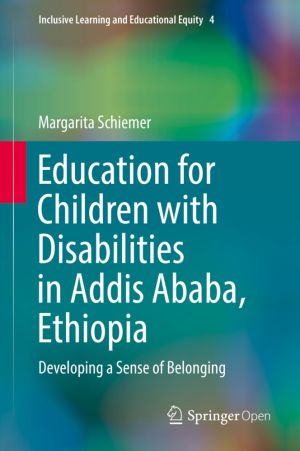 Book Description
This book presents insights into the lived realities of children with disabilities in primary schools in Addis Ababa, Ethiopia. It examines specific cultural and societal characteristics of Ethiopia that influence the education of children with disabilities. The book presents findings drawn from interviews with, and participant observation of the schoolchildren, family members, teachers and other "experts", and places these findings in a cultural-historical context. The multidimensional approach taken allows for, on the one hand, the provision of a historical grounding of the book, explaining the main historical junctures and their implications for education, and the discussion of the role of culture and society as barriers and facilitators of education. On the other hand, it gives the book a more personal angle, allowing the reader to gain insight into what it means to feel like a family, develop a sense of belonging, and trying to move toward educational equity.
This open book is licensed under a Creative Commons License (CC BY). You can download Education for Children with Disabilities in Addis Ababa, Ethiopia ebook for free in PDF format (5.1 MB).
Book Details
Publisher
Springer
Published
2017
Pages
213
Edition
1
Language
English
ISBN13
9783319607672
ISBN10
3319607677
ISBN13 Digital
9783319607689
ISBN10 Digital
3319607685
PDF Size
5.1 MB
License

Related Books

Protecting the Rights of People with Autism in the Fields of Education and Employment
by Valentina Della Fina, Rachele Cera
Fundamental rights for all people with disabilities, education and employment are key for the inclusion of people with autism. They play as facilitators for the social inclusion of persons with autism and as multipliers for their enjoyment of other fundamental rights. After outlining the international and European dimensions of the legal protection...

Compendium for Early Career Researchers in Mathematics Education
by Gabriele Kaiser, Norma Presmeg
The purpose of this Open Access compendium, written by experienced researchers in mathematics education, is to serve as a resource for early career researchers in furthering their knowledge of the state of the field and disseminating their research through publishing. To accomplish this, the book is split into four sections: Empirical Methods, Impo...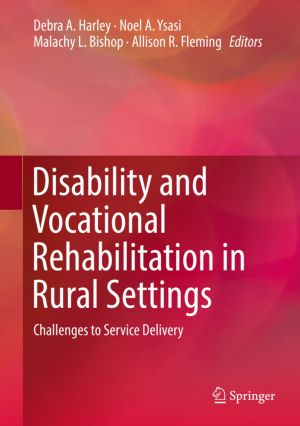 Disability and Vocational Rehabilitation in Rural Settings
by Debra A. Harley, Noel A. Ysasi, Malachy L. Bishop, Allison R. Fleming
This first-of-its-kind textbook surveys rehabilitation and vocational programs aiding persons with disabilities in remote and developing areas in the U.S. and abroad. Contributors discuss longstanding challenges to these communities, most notably economic and environmental obstacles and ongoing barriers to service delivery, as well as their resilie...

Tellings and Texts
by Francesca Orsini, Katherine Butler Schofield
Examining materials from early modern and contemporary North India and Pakistan, Tellings and Texts brings together seventeen first-rate papers on the relations between written and oral texts, their performance, and the musical traditions these performances have entailed. The contributions from some of the best scholars in the field cover a wide ra...

Python Machine Learning Projects
by Lisa Tagliaferri, Michelle Morales, Ellie Birkbeck, Alvin Wan
As machine learning is increasingly leveraged to find patterns, conduct analysis, and make decisions - sometimes without final input from humans who may be impacted by these findings - it is crucial to invest in bringing more stakeholders into the fold. This book of Python projects in machine learning tries to do just that: to equip the developers ...

Values and Valuing in Mathematics Education
by Philip Clarkson, Wee Tiong Seah, JeongSuk Pang
This engaging free book discusses how a values and valuing perspective can facilitate a more effective mathematics pedagogical experience, and allows readers to explore multiple applications of the values perspective across different education systems. It also clearly shows that teaching mathematics involves not only reasoning and feelings, but als...