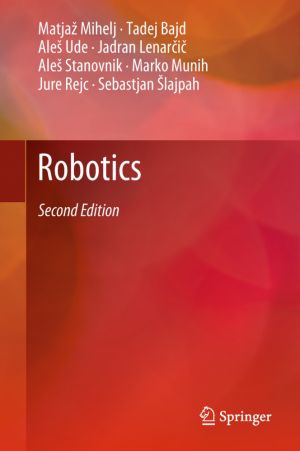 Book Description
This book introduces readers to robotics, industrial robot mechanisms, and types of robots, e.g. parallel robots, mobile robots and humanoid robots. The book is based on over 20 years of teaching robotics and has been extensively class tested and praised for its simplicity.It addresses the following subjects: a general introduction to robotics; basic characteristics of industrial robot mechanisms; position and movement of an object, which are described by homogenous transformation matrices; a geometric model of robot mechanisms expanded with robot wrist orientation description in this new edition; a brief introduction to the kinematics and dynamics of robots; robot sensors and planning of robot trajectories; fundamentals of robot vision; basic control schemes resulting in either desired end-effector trajectory or force; robot workcells with feeding devices and robot grippers.
This 2nd edition has been expanded to include the following new topics: parallel robots; collaborative robots; teaching of robots; mobile robots; and humanoid robots. The book is optimally suited for courses in robotics or industrial robotics and requires a minimal grasp of physics and mathematics.
This open book is licensed under a Creative Commons License (CC BY). You can download Robotics ebook for free in PDF format (3.9 MB).
Book Details
Subject
Engineering and Technology
Publisher
Springer
Published
2019
Pages
249
Edition
2
Language
English
ISBN13
9783319729107
ISBN10
3319729101
ISBN13 Digital
9783319729114
ISBN10 Digital
331972911X
PDF Size
3.9 MB
License

Related Books

Elements of Robotics
by Mordechai Ben-Ari, Francesco Mondada
This book bridges the gap between playing with robots in school and studying robotics at the upper undergraduate and graduate levels to prepare for careers in industry and research. Robotic algorithms are presented formally, but using only mathematics known by high-school and first-year college students, such as calculus, matrices and probability. ...

Cognitive Supervision for Robot-Assisted Minimally Invasive Laser Surgery
by Loris Fichera
This thesis lays the groundwork for the automatic supervision of the laser incision process, which aims to complement surgeons' perception of the state of tissues and enhance their control over laser incisions. The research problem is formulated as the estimation of variables that are representative of the state of tissues during laser cutting. Pri...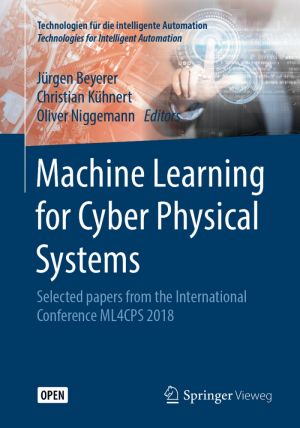 Machine Learning for Cyber Physical Systems
by Jürgen Beyerer, Christian Kühnert, Oliver Niggemann
This book proceedings presents new approaches to Machine Learning for Cyber Physical Systems, experiences and visions. It contains some selected papers from the international Conference ML4CPS - Machine Learning for Cyber Physical Systems, which was held in Karlsruhe, October 23-24, 2018. Cyber Physical Systems are characterized by their ability to...

Informatics in the Future
by Hannes Werthner, Frank van Harmelen
This volume discusses the prospects and evolution of informatics (or computer science), which has become the operating system of our world, and is today seen as the science of the information society. Its artifacts change the world and its methods have an impact on how we think about and perceive the world. Classical computer science is built on th...

IMPROVE - Innovative Modelling Approaches for Production Systems to Raise Validatable Efficiency
by Oliver Niggemann, Peter Schüller
This open access work presents selected results from the European research and innovation project IMPROVE which yielded novel data-based solutions to enhance machine reliability and efficiency in the fields of simulation and optimization, condition monitoring, alarm management, and quality prediction. Prof. Dr. Oliver Niggemann is Professor for Ar...

Foundations of Trusted Autonomy
by Hussein A. Abbass, Jason Scholz, Darryn J. Reid
This book establishes the foundations needed to realize the ultimate goals for artificial intelligence, such as autonomy and trustworthiness. Aimed at scientists, researchers, technologists, practitioners, and students, it brings together contributions offering the basics, the challenges and the state-of-the-art on trusted autonomous systems in a s...